ITTA BENA, Miss.— A recent Mississippi Valley State University graduate has been enjoying a coveted internship opportunity with National Aeronautics and Space Administration (NASA).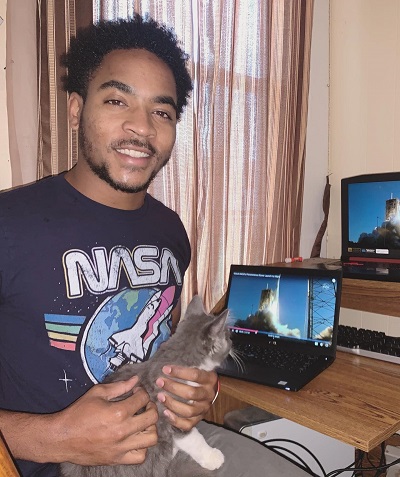 MVSU Computer Science graduate Jarvis Riley worked with the organization this summer and was extended the opportunity to continue interning throughout the Fall as a Data Analyst intern.
While COVID-19 has caused his internship experience to be a little unconventional, the Belzoni, Miss. native said he has still found it fulfilling.
"Interning at NASA has been a dream come true. This year, NASA internships are completely virtual, but we haven't missed a beat," said Riley. "I continue to communicate with fellow interns and other employees throughout the company daily. Despite the pandemic, this opportunity has been a jewel in itself, serving as my first experience where I get to 'work from home.'"
Riley said he stumbled upon the opportunity while researching internship opportunities as he prepared to earn his bachelor's degree this past spring.
"Upon my final semester at MVSU, I consistently applied for opportunities that would equip me with more work experience immediately following graduation," he said. "I previously interned with NASA during the summer of 2018, so I was familiar with the application process. "
Equipped with a bachelor's degree and coveted internship experience, Riley said he's now making plans for his next move.
"My ultimate goal is to seek full-time employment in the field of technology and potentially a master's degree," he shared.
As a student at MVSU, Riley served as the secretary of the Student Government Association, a member of the Zeta Zeta Chapter of Kappa Alpha Psi Fraternity Inc., a member of the Mathematics, Computer and Information Science (MCIS) Club, and the Cyber Security Club.
He said his experiences at MVSU have served him well during his internship.
"I aspire to use what I've learned in college to contribute to something meaningful. This internship has allowed me to work on a current NASA project, making small contributions towards a large goal, aligning with my aspirations," he said. "I will take the tools MVSU has instilled in me and use them to make many more contributions throughout my internship and in the future."
Riley said his professors at MVSU also played a major role in preparing him for a career in Computer Science.
In addition to his internship with NASA, he has also participated in a virtual research opportunity with MVSU and Mississippi State University exploring Cybersecurity this summer.
"During my time at the university, I've taken many opportunities to develop academically & professionally," said Riley. "MVSU has equipped me with the necessary foundation I need to thrive in the Computer Science community. I will take what I've learned and built upon that knowledge throughout my career."