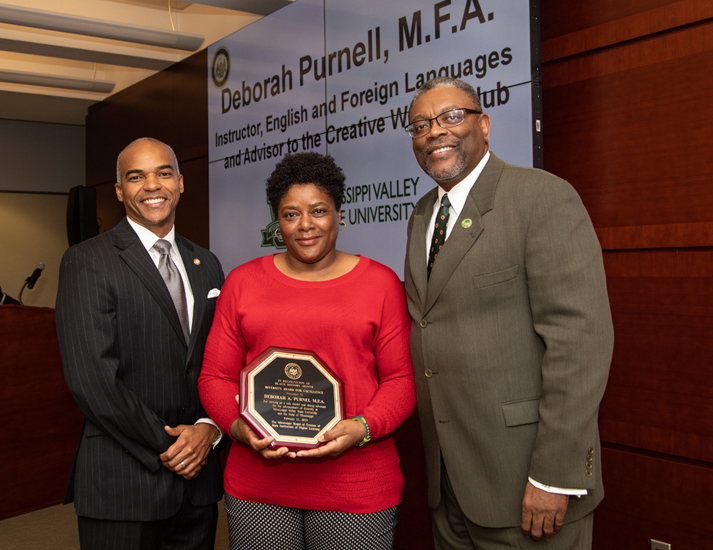 ITTA BENA, Miss.—Deborah Purnell was recently recognized by the Mississippi Board of Trustees of the State Institutions of Higher Learning (IHL) for her work to advance diversity at Mississippi Valley State University.
During its February board meeting, the IHL hosted its Diversity Awards ceremony in honor of Black History Month.
As part of the annual ceremony, IHL board members honor faculty from each of Mississippi's eight public universities for advancing diversity at their respective institutions.
Purnell, who serves as an instructor in MVSU's Department of English and Foreign Languages, as well as advisor for the University's Creative Writing Club, was selected as MVSU's recipient by university administration.
 "I am honored to have been chosen for a diversity and inclusion award," said Purnell. "It is a rare opportunity to be honored for something that comes naturally to me. I love meeting people and I love telling people about MVSU."
Purnell said she enjoys helping students at MVSU and in the community develop a love for writing.
"I love sharing my writing background and experience with students at the various high schools to encourage more young people to tell their stories. Mississippians are natural storytellers and our students just need a push to write theirs," she said.
During the ceremony, Dr. Michael Ryan, professor and associate dean for Student Affairs at the University of Mississippi Medical Center's School of Graduate Studies in the Health Sciences was named the 2019 Diversity Educator of the Year.​
Retired educator and community volunteer Penny Sisson of Oxford received the Karen Cummins Community Service Award.