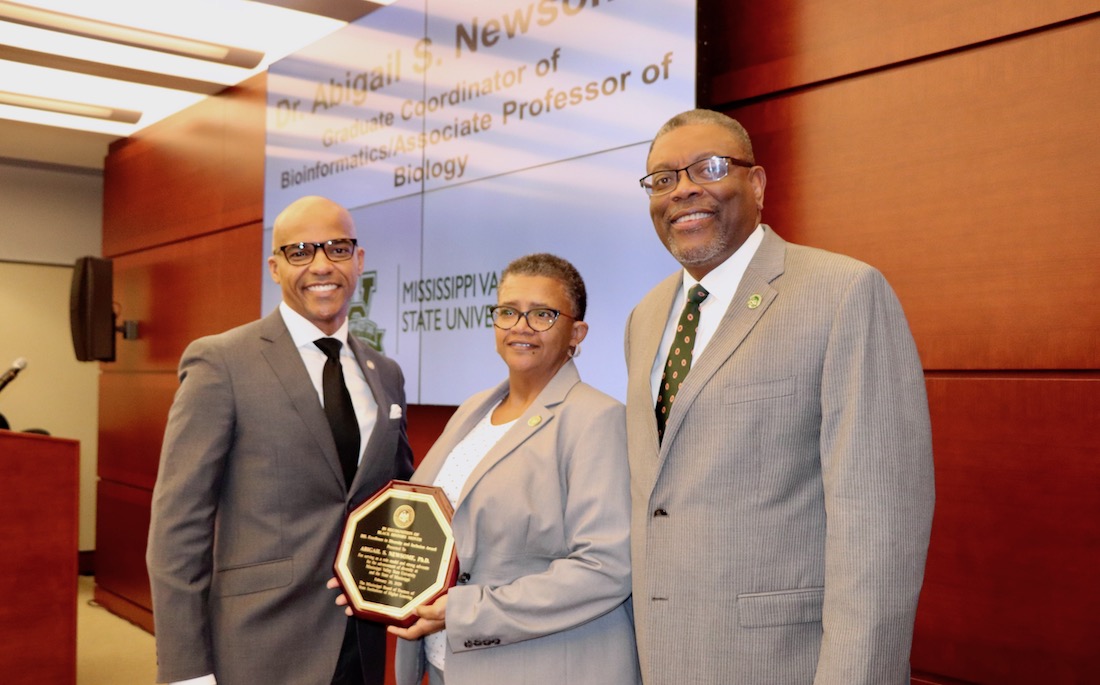 ITTA BENA, Miss.—The Mississippi Board of Trustees of the State Institutions of Higher Learning recently celebrated Black History Month by holding its annual Diversity and Inclusion Awards ceremony during its February meeting in Jackson.
During the ceremony, campus and community leaders were recognized for their efforts in advancing diversity and encouraging understanding and respect on their campuses. 
Dr. Abigail S. Newsome, graduate coordinator of Bioinformatics and associate professor of Biology, was recognized as MVSU's recipient. 
Newsome was selected by MVSU administration for her work with MVSU's Office of International Programs and the University's study abroad initiatives, including faculty/student exchanges, collaborative teaching/research, and curriculum development. 
Newsome, a native of Itta Bena, said she's honored to receive the recognition. 
"I believe that diversity plays a crucial role in providing a holistic educational experience," said Newsome. 
"I'm appreciative of President Briggs and the Office of Academic Affairs for nominating me and the Mississippi Board of Trustees for recognizing and honoring the importance of diversity and inclusion in higher education.
I would also like to congratulate my colleagues from the other state institutions for being champions of diversity on their campuses as well," she added. 
During the ceremony, Dr. Susan Mayfield-Johnson, an associate professor in the School of Health Professions for the University of Southern Mississippi, was named the 2020 Diversity Educator of the Year. 
Dr. Eddie Holloway of Hattiesburg received the Karen Cummins Community Service Award.