Mississippi Valley State University will celebrate Black History Month with its annual Dr. Martin Luther King, Jr. Black History Convocation.
The theme for this year's event is "Black Resistance," which will be held at 11 a.m. Thursday, Feb. 2, 2023, at the H.G. Carpenter Building in the Walter Roberts Auditorium.
The keynote speaker will be Mississippi Delta native Ty Pinkins, a veteran, lawyer, author, and former Communications Aide to the President of the United States.
MVSU Convocation Committee member Donell Maxie, the Director of Communications and Marketing, said he's excited to have Pinkins visit MVSU's campus.
"Black History Month is a special time when we honor the legacy and sacrifices of those who came before us," said Maxie. "We are excited to have Attorney Pinkins visit and discuss the important topic of Black Resistance and explore how African Americans have resisted historical and ongoing oppression in all forms," Maxie added.
Having grown up in poverty—living for much of his childhood in a house with no indoor bathroom and chopped cotton throughout his teenage years to help his parents make ends meet; Pinkins knows the struggles of many Mississippians profoundly.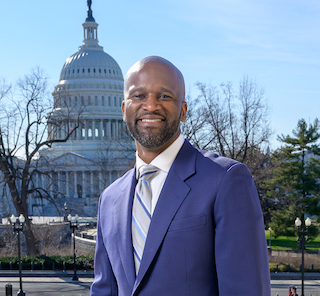 Pinkins became the first in his family to graduate high school. After graduating, he enrolled at Tougaloo College. While he loved Tougaloo and what it offered academically, culturally, and socially, like so many of our students, Pinkins found the financial struggles of attendance to be more than he or his family could bear.
As a result, he joined the Army, knowing he could serve his country while working toward a degree while on active duty. During his 21 years of service—in which he served three combat tours in Iraq and was awarded numerous medals, including the Bronze Star—Pinkins earned his bachelor's degree in political science from the University of Maryland Global Campus.
In the final three years of his military career, he was selected for and served in the White House Communications Agency, working for President Obama and Trump to provide for their communications needs.
Upon retirement from the Army, Pinkins was accepted at the Georgetown University Law Center, where he earned his Jurist Doctorate and Master of Laws (LL.M.) in national security law. After graduating from law school, he took a position with the Mississippi Center for Justice, fighting to protect the rights and livelihoods of people vulnerable to the predations of wealthy and influential landowners, landlords, and business interests. He has represented and helped poor farm workers recover substantial sums in back wages they'd been cheated out of by businesses in violation of Federal law.
Pinkins continues to advocate for people in some of Mississippi's most underserved communities as a proud son of the Mississippi Delta. He is the author of 23 Miles & Running: My American Journey from Chopping Cotton in the Mississippi Delta to Sleeping in the White House, which recounts the honest and compelling story of his struggle to overcome early setbacks and difficulties, his determination to serve his country honorably and bravely while furthering his education. His book also tells of his experience working under America's first Black President—and his dedication to earning a law degree from one of the country's most well-regarded law schools so that he could come back to Mississippi and stand up for fair treatment for our state's workers being preyed upon by the rich and powerful.