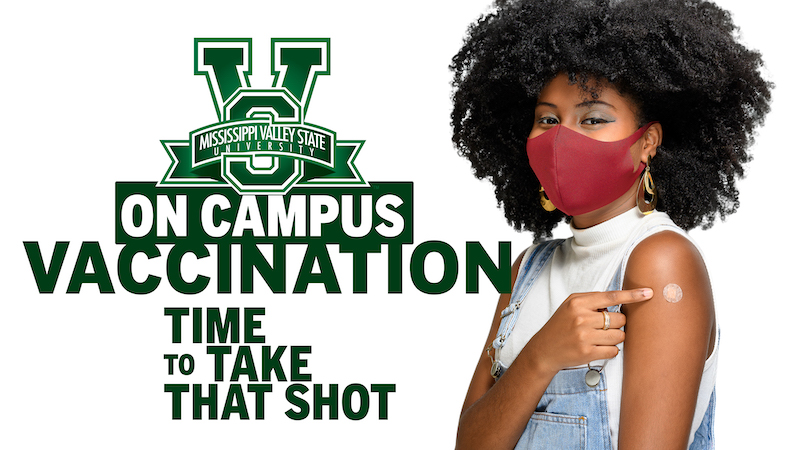 On Thursday, April 15, 2021, Mississippi Valley State University will be a host site for COVID-19 Vaccinations. The Mississippi State Department of Health (MSDH) will be on campus at 9 a.m. in the ​Harrison Complex.
Vaccines will be available and open to faculty, staff, students, family members of campus personnel, and community members. All vaccinations are available by appointment, and those interested should contact Dr. Elizabeth Evans at edevans@mvsu.edu or 662-254-3084, Dr. Kathrine Pigeon kathrine.pigeon@mvsu.edu or 662-299-6091, or Ms. Rachel Lewis at Rachel.Lewis@mvsu.edu or 662-299-6314 to sign-up.
Dr. Evans,  COVID-19 Preparedness and Response Director, said the goal is to help increase the number of campus and community members who are vaccinated before the end of the spring semester.
"​As a partner in the local community, MVSU strives to make student, faculty, staff, and community life safe and healthy even as the COVID-19 pandemic continues. The surrounding rural communities need a place to go for COVID-19 vaccinations that is familiar, accessible, and provide needed resources.  This builds trust and success for all," Evans explained.
The immunizing of the campus community gives the university the best chance of returning to pre-pandemic normalcy. Along with wearing a mask and social distancing, vaccinations are essential to repopulate campus and re-introduce the many unique features that make up the Valley experience.
"We are fortunate that MVSU is receiving these vaccines," Evans said. "​Providing COVID-19 vaccinations on the Mississippi Valley State University campus can help attain community immunity and provide the safest possible environment for continued operation, education, and community engagement," Evans added.