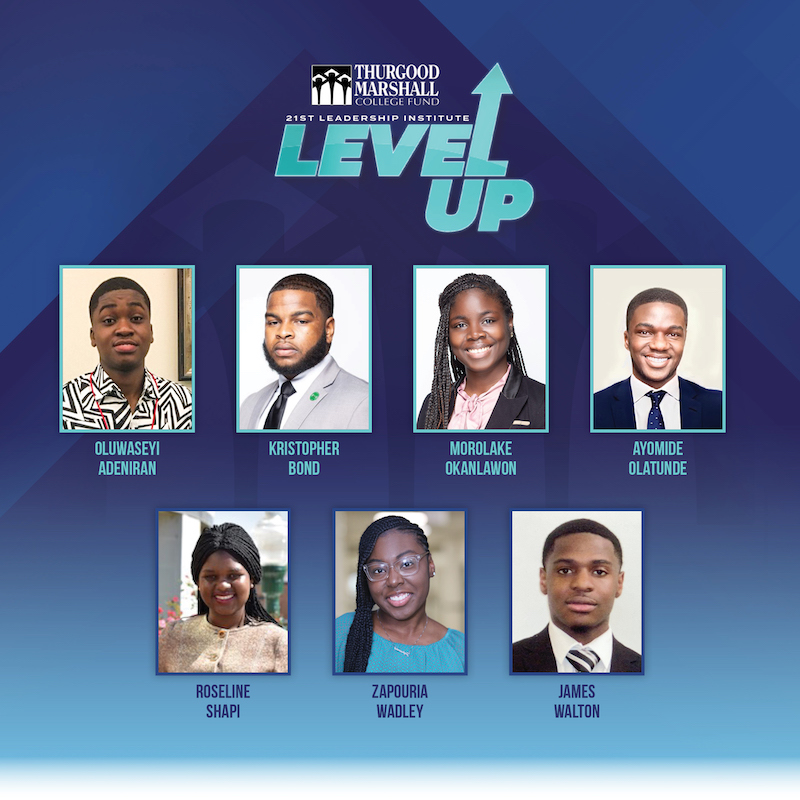 By: Jasalyn K. Lucas, Communications Specialist
In October, eight Mississippi Valley State University students earned the opportunity to attend the Thurgood Marshall College Fund's 21st Leadership Institute.
This power-packed 4-day virtual conference selected students from the 47 publicly-supported Historically Black Colleges and Universities (HBCUs) and Predominantly Black Institutions (PBIs) to compete in today's very competitive global workforce.
The eight MVSU students selected attended the four-day virtual conference from the comfort of their college campus. These students include:
Morolake Okanlawon             Lagos, Nigeria            Biology Major
Kristopher Bond                     Harvey, IL                  Business Administration Major
Roseline Shapi                       Zimbabwe, Africa       Computer Science Major
Ayomide Olatunde                 Lagos Nigeria             Computer Science Major and Biology Minor
Oluwaseyi Adeniran               Lagos, Nigeria            Computer Science, and Math Major
James Walton                        Lisman, AL                 Electronic Engineering Major
Caleb Wafer                           Stockton, CA              History and Math Major
Zapouria Wadley                    Chattanooga, TN        Mass Communications Major
These students have completed the rigorous interview process and the pre-LI mandatory action items required to access this virtual conference.
Wadley, who serves as Sophomore Vice President, and Bond, the current Student Government Association (SGA) President, shared their insights on this virtual experience.
Wadley felt excited to be selected to attend the Leadership Institute and that all her hard work in and out of the classroom did not go unnoticed.  
Wadley met with representatives from several corporations during the Leadership Institute, including Wendy's, Wells Fargo, the Kellogg Company, and Vanguard.
"This was my first year attending the Thurgood Marshall Leadership Institute Conference, and although virtual, I still gained valuable information from all of the sessions that I attended," said Wadley.
"I also enjoyed being able to bond every day with my other Thurgood Marshall Leadership Institute Scholars who also represented MVSU. In addition, for lunch each day, we received vouchers for the restaurant of our choice, which made my experience with the Leadership Institute even better," she added.
For Bond, it was his second year being selected for this Institute, and he was thrilled to be chosen again.
"It is an honor to be a part of this experience for the second time, and I gained more knowledge to help in my professional endeavors for sure," he said.
During Bond's first time in the Institute, he was able to get an internship with American Honda, where they paid for 85 percent of his housing and provided him with full benefits.
While in the Institute Conference, he met with executives from Wells Fargo, JP Morgan Chase, Altria, John Deere, Wendy's and even got a chance to reconnect with the American Honda crew.
"I gained more knowledge to help in my professional endeavors and gained connections with LinkedIn that would be very beneficial for me in the long run," said Bond.
Wadley and Bond felt that participating in this conference gave them direct professional development experience, and they hope to bring that back to the students at MVSU.
"I feel that the annual Thurgood Marshall Leadership Institute Conference will influence students at MVSU to exhibit leadership skills both in and outside of the classroom so that they too can be chosen to represent MVSU at the conference in the future," Wadley added.
Bond added, "With being selected for this Institute, I hope it encourages all students to take advantage of this opportunity. This gives them the chance to expand their career and educations horizons outside of the delta while representing the university exceptionally."
The recruitment fair included Fortune 500 companies, government agencies, and graduate program representatives.
The award-winning Leadership Institute is a TMCF national program intended to develop students' leadership skills, provide organizations access to a talented and diverse student population, and help students make connections that lead to careers.
This prestigious conference offers top Historically Black Colleges & Universities (HBCU) talent the opportunity to develop leadership skills and make connections that lead to careers.