ITTA BENA, Miss.—"He was a very talented and gifted young man," said Dr. Jacqueline Gibson Preastly to the large group of Mississippi Valley State University students, faculty and staff gathered in honor of Jevonte Curtis.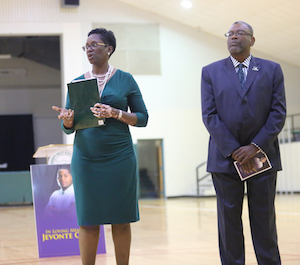 "He developed himself as a student leader here, and the student body elected him as treasurer for the SGA for this academic year. He was also very well loved by the brothers of Omega Psi Phi, Inc., an organization that he was initiated to this past Spring. This is a sad day for all of us, and it's really been heavy on my heart as well as the students, staff and faculty," Preastly added.
Curtis, a native of Chicago, passed away Sunday, Sept. 29, following a car accident near Belzoni, Miss. A candlelight vigil for the 22-year-old senior criminal justice major was organized by the MVSU Division of Student Affairs and Student Government Association (SGA), Inc. Tuesday at 4:30 p.m. in the Charles Lackey Recreational Center. 
Following the memorial ceremony, a candlelight vigil was hosted at the Pavilion. Members of Omega Psi Phi Fraternity, Inc. then adorned their University plot with a black ribbon in honor of Curtis. 
The ceremony included an invocation by Jerome Petty and benediction by Antonio Binder.
In addition to hearing several uplifting selections from Different Generations of Praise, a student music group, MVSU President Dr. Jerryl Briggs and students Brandon McCall and Zacchaeus Sias shared their memories of Curtis.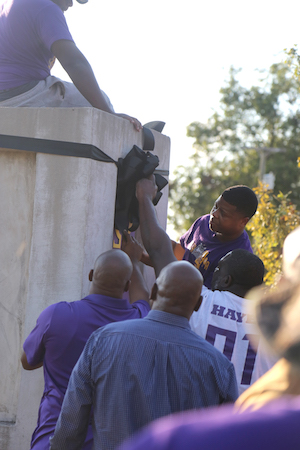 "I think we all feel the pain and sorrow of knowing that a very precious life has been lost," said Briggs. "I knew Tae personally, and he was an outstanding young man. We need to remember the love he had for this University because that speaks about who we are as a community."
"We all need to lean on each other and support each other's successes—I know that's what he would want. We want to memorialize Jevonte, but we also want to give thanks for the time that we had with him and the lives that he touched. I know I'm going to always appreciate that," Briggs added.  
McCall, who serves as president of the MVSU SGA, Inc., said that he watched Curtis progress during his time at the University.
"Tae meant a lot to me. I served as Trailblazer (student mentor) during his freshman year and later as his RA and SGA president," he shared. "This was the very last suit that we bought together, so I wore it today in memory of him."
Sias, who spoke on behalf of MVSU's Beta Theta Chapter of Omega Psi Phi Fraternity, Inc. said that he spoke with Curtis nearly every day after joining the organization together. 
"He had the ability to leave an impact on everyone that he met," said Sias. "People say the phrase 'gone but never forgotten', but if we don't learn from his life and death, sadly he will be forgotten. I just want everyone to treat people the way they'd want to be treated and love everyone."
Sias recalled shaking Curtis' hand one final time after the MVSU football game against Alcorn State University Saturday.
"I didn't know that it would be the last time, but I'm at peace because he wasn't just a fraternity brother—he was a friend. He was there for me when I needed him, and I was there when he needed me."
Details regarding Curtis' funeral arrangements will be released as they become available.