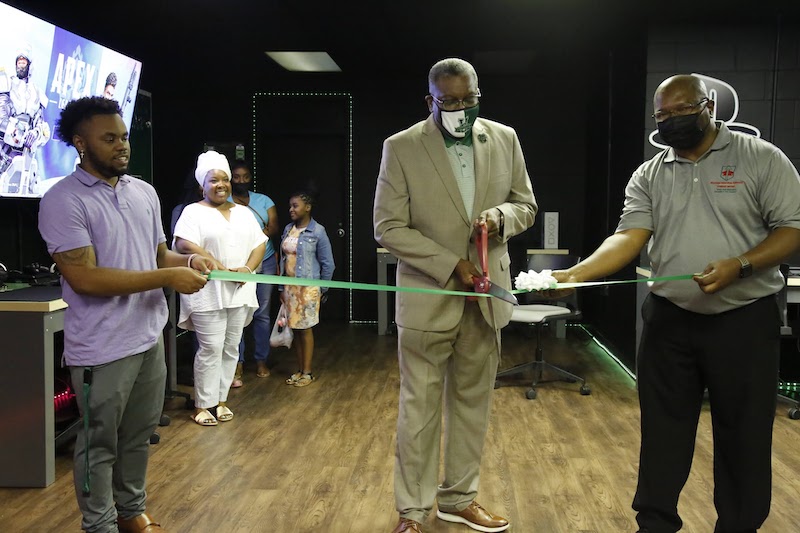 By: Michael Coleman, MVSU Communications Intern
The Black Collegiate Gaming Association (BCGA) is kicking off summer with education and gaming by teaming up with seven HBCUs for the Corners to Colleges HBCU program.
Mississippi Valley State University (MVSU) has partnered with the BCGA to assemble a gaming laboratory on campus for students to learn the preliminaries of gaming.
 "This is going to be a tremendous opportunity for our students to understand not just playing the game, but the fundamentals behind gaming itself," said Jeryl Briggs, President of MVSU.
The Black Collegiate Gaming Association was established to educate college students on the fundamentals of the gaming industry. The laboratory includes the latest technology and software that provides students with the best gaming experience possible.
Derrick Jones, the Executive Director of Upward Bound I, said, "It is a great day at Mississippi Valley State University. Because of BCGA, our students can participate in the gaming association's technology lab and learn the behind-the-scenes of gaming, along with the equipment installed with those gaming systems."
The laboratory gives students insight into the gaming industry and career choices and builds team and leadership skills. Each laboratory is stationed at an HBCU to at least give students a strong foundation.
"We can compete with the world and students on other college campuses. Our children go down an avenue where they can choose careers in different gaming areas. Finally, we get to plant a seed and watch it grow," said Jerome Petty, director of Upward Bound 2.
Scholarships are available for qualified students who take advantage of what the program offers.
"Mississippi Valley State University makes our ninth gaming lab to open, and we are excited for our opportunity and partnership with them," said Ashley M., program manager of BCGA.
Over 100 high school students (9-12th grade) recently experienced a week of HBCU college prep gaming and learned in-depth about the world of Esports.
The students who stayed on HBCU campuses were exposed to HBCU college life, a one-week overnight stay in campus residence halls, an introduction to the gaming industry, and opportunities in all aspects of the industry, including Esports, college advisors working with the students in the campus gaming and innovation labs, the opportunity to work on real case studies and projects from BCGA corporate partners, weekly compensations and certificate of completions, special awards, and scholarships to one of the BCGA member institutions. The BCGA HBCU Charter Members' Institutions include MVSU, Florida A&M University, Edward Waters University, Florida Memorial University, Alabama State University, Alabama A&M University, and Jackson State University.
To be chosen for the Corners to College HBCU initiative, students had to have a 2.5 or higher GPA, two letters of recommendation from a teacher/guidance counselor, and a community representative or non-profit organization. The program sponsors are Sony PlayStation, HyperX, Intel, Google Play, Lenovo, Staples & GameStop.
The BCGA was established to provide education, access, and career opportunities in the gaming and esports industry to Black and women of color college students. BCGA offers virtual and on-campus curriculums; inter-collegiate video gaming competitions; internships and post-graduation job opportunities; team building and leadership training; professional development and networking events; scholarships and mentorships; and on-campus