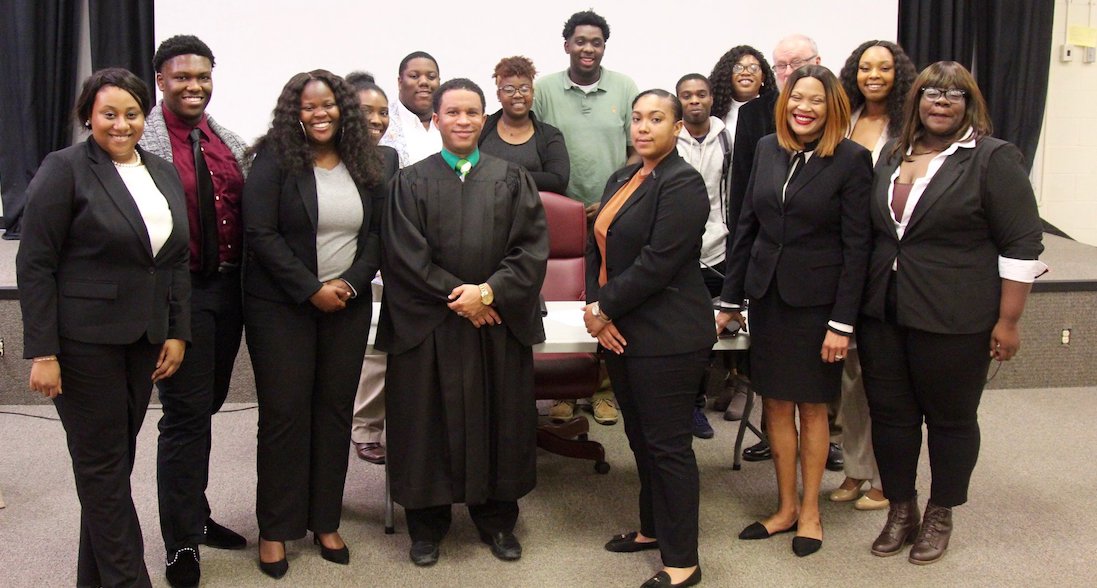 ITTA BENA, Miss. —Practice makes perfect, and the Mississippi Valley State University Mock Trial Team recently put that theory into practice during an intra-squad scrimmage.
During the event, hosted in the Carver A. Randle Auditorium of the W.A. Butts Social Science Building, the team split to oppose one another in a full trial as they prepare for upcoming competitions.
Leflore County Justice Court Judge Carlos Palmer, an MVSU alumnus, presided over the fictitious trial.
A large audience, comprised of Greenwood Middle school students as well as Leflore County community members, came out to witness the event.
"Two of the middle school students were so impressed with the exhibition that they vowed to attend Valley and pursue a legal career," said Kambreca Mitchell of Greenwood, captain of the Mock Trial team.
At the event's conclusion, Palmer, an MVSU alumnus, indicated that the team has a bright future.
"I am very impressed with Valley's Mock Trial Team and predict they will do very well in future competitions," he said.
Students performing included Mitchell, Mychal Barnum of Memphis, Jada Brinson of Miami, Nadia Crawford of Atlanta, Alexxus Ervins of Laurel, Jasmine Murphy of Itta Bena, Rodarius Turner of Indianola, Chelsea Washington of Yazoo City and Jesiah Williams of Batesville.
Also, mock trial team alumnus, Kenya Jones, stepped in to perform in the absence of co-captain, Donovan Brownlee of Columbus, Ohio. Delores Davis served as timekeeper.



The coach for the Mock Trial Team is Neysha Sanders, Esq. assistant professor of Legal Studies. She is the coordinator of the Pre-law Legal Studies Program, serves as University Pre-Law advisor, and is also a member of Sanders and Sanders Law Firm. 



The volunteer coach for the team is Dr. Larry W. Chappell, a retired professor of Political Science at MVSU.



The program is sponsored by the MVSU Department of Social Sciences, The Office of Academic Affairs, The Office of University Advancement, The Office of Sponsored Programs, and The Office of the President; and the Leflore County Board of Supervisors.



The team will be back in action during the 8th Annual Argo Invitational Mock Trial Tournament, slated for Jan. 19-20 at the University of West Florida in Pensacola.
Click HERE to view more photos from the event on MVSU's Facebook page!