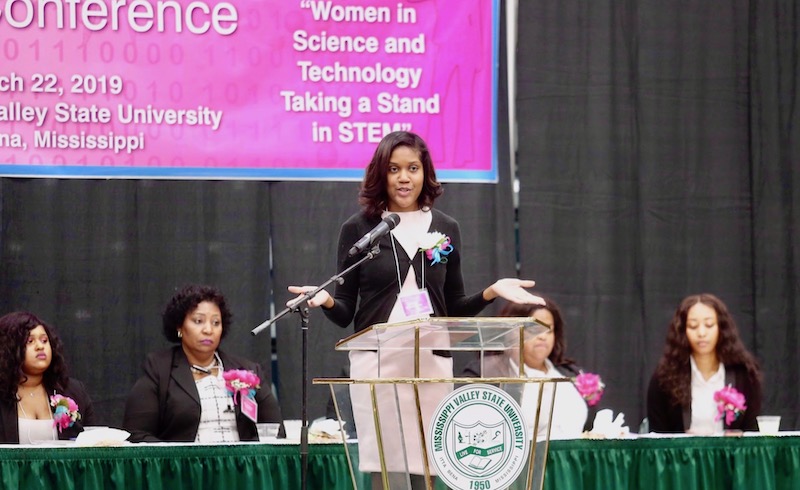 Mississippi Valley State University (MVSU) will host its 23rd celebration of the Constance G. Bland Women in Science and Technology (WIST) Conference virtually on Friday, May 7, 2021.
The theme for this year's conference is "Women in Science and Technology 2021: Virtually Navigating Teaching and Learning through a Pandemic".
This free virtual conference, hosted by the Science, Technology, Engineering, and Mathematics (STEM) departments at MVSU, is a friendly and engaging conference for young women in middle and high school.
The conference's goal is to show students that STEM careers are exciting, attainable, and rewarding and increase awareness of STEM disciplines and MVSU.
The WIST Organization is a student-led organization designed to promote women in science and technology.  This organization is comprised of undergraduate female students majoring in STEM disciplines. These students are committed and devoted to making a difference in the scientific community.   
Dr. Latonya Garner-Jackson, chair of the Mathematics, Computer, and Information Sciences department, said she is extremely excited about this year's event because "it is our very first virtual WIST conference, and it will expose young females to a stellar group of women scientists and doctors in the scientific community.
The presenters for this celebration will be Dr. Cherae Farmer-Dixon, Dean of Meharry Medical College School of Dentistry; Ms. Jacquilyn German, Community Partnership Director of Mississippi State Department of Health; Ms. Yolanda Harvey-West, IT Specialist for USDA; Dr. Amber Johnson, Owner of The Kidult Life and 1st Ph.D. graduate of Computer Science from Purdue; Dr. Hattie Spencer, Professor in the Natural Science and Environmental Health department at MVSU; Dr. Hilliary Spivey, Physician Assistant at Next Level Urgent Care; Dr. Candace Stevens, Assistant Professor in the Mathematics, Computer and Information Sciences department at MVSU; and Dr. Stacy White, Associate Professor in the Mathematics, Computer and Information Sciences department at MVSU.
The WIST Organization aspires to become a motivator to young ladies who yearn to be different in shaping the world in the 21st century.
"We hope this conference will improve young females' attitudes about STEM and increase their interest in MVSU," said Garner-Jackson.