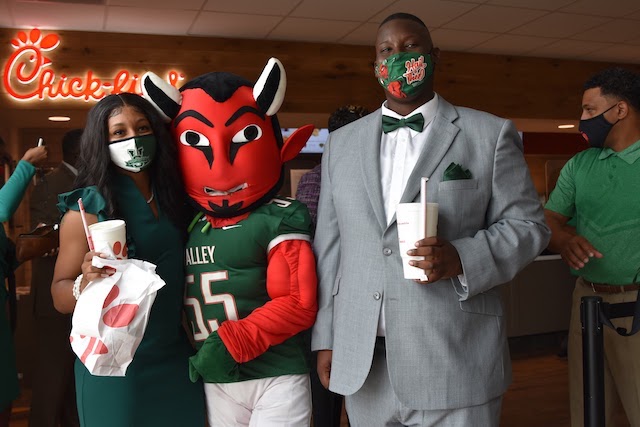 By Jasalyn Lucas, Communications Specialist
On Thursday, September 30, 2021, Mississippi Valley State University officials welcomed local civic leaders, faculty, staff, students, and community members to a ribbon-cutting and grand opening of the Chick-fil-A at MVSU.
The excitement surrounding the addition of such a well-respected brand has had the Valley and local community members buzzing since its announcement.
Both Chick-Fil-A and MVSU believe in giving back. The restaurant believes in giving back to its customers' lives and the communities they serve. MVSU's motto is "Live for Service," which teaches each student the value of giving back.
Dr. Jerry Briggs, President of MVSU, shared his excitement about the grand opening and the impact he believes it will have on the university.
"We are so thankful for this opportunity. We know that this is something that the students have asked for, and we want to make sure we are attentive to you all's needs and supporting our university as we advance," said Dr. Briggs.
"We know that here at MVSU, we are a big part of this community, and this establishment shows one example of how we are going to share, open, and embrace everything our community has to offer," Dr. Briggs added.
Miss. Senator David Jordan (D), Mayor Carolyn McAdams (Greenwood), Leflore County Supervisor Reginald Moore, and Mayor Reginald Freeman (Itta Bena), were all in attendance for the grand opening.  
"The city of Greenwood has been trying for years and years to get a Chick-Fil-A, so Valley kudos to you, and at least it is only 8 miles away. So, we can still enjoy, come over, participate, and eat chicken," said Mayor McAdams.
Senator Jordan, an MVSU alum, applauded Dr. Briggs and the university for bringing the franchise to Valley.
"It is a good job that you are doing, Mr. President, and we are grateful. We will do whatever we need to do to make it even greater by putting state legislator and senate resources. I am glad to be here, at home with so many people. We are glad Chick-Fil-A is here on the MVSU Campus," said Senator Jordan.
Moore, who is also a Valley Alum, shared similar sentiments as Jordan.
 "This gives me great pleasure to be here at this occasion because I am an alum of MVSU. It is a historic moment for not only MVSU but for Itta Bena and Leflore County," Moore explained.
Mayor Freeman said, "Great things are going to happen in Itta Bena! Thank you, Mr. President, for beginning one of those great things started by bringing Chick-Fil-A. Stay tuned because there will be more to come."
Several MVSU student leaders were on hand for the event ad shared their thoughts on what it means for the MVSU Student to have Chick-fil-A open on campus.
Student Government Association President Kristopher Bond said having the restaurant on campus is something everyone has talked about for months.
"This has been anticipated by me, the executive cabinet, the students, faculty, and staff of the university. Opening Chick-fil-A shows the students that the university administrators hear their voices and that we must continue to work and keep Valley in Motion," Bond said.
Rodkell Barber, Mister MVSU for the 2021-2022 academic year, said, "I am thrilled that this is happening. Since my freshman year, I have been looking forward to upgrading some things and getting better opportunities. Chick-Fil-A is a big help now that people have something they can access on campus, and I am happy about it."
"I think it is a great opportunity, and the students have been asking for it for years, and now that we have it, I am grateful that Chick-Fil-A has come to campus," said Ronni Williams, Miss MVSU 2021-2022.
Chick-Fil-A has many franchises all over the country and on many college campuses. This project has been in the works for a while and is one of the only Chick-Fil-A franchises opened during the pandemic.