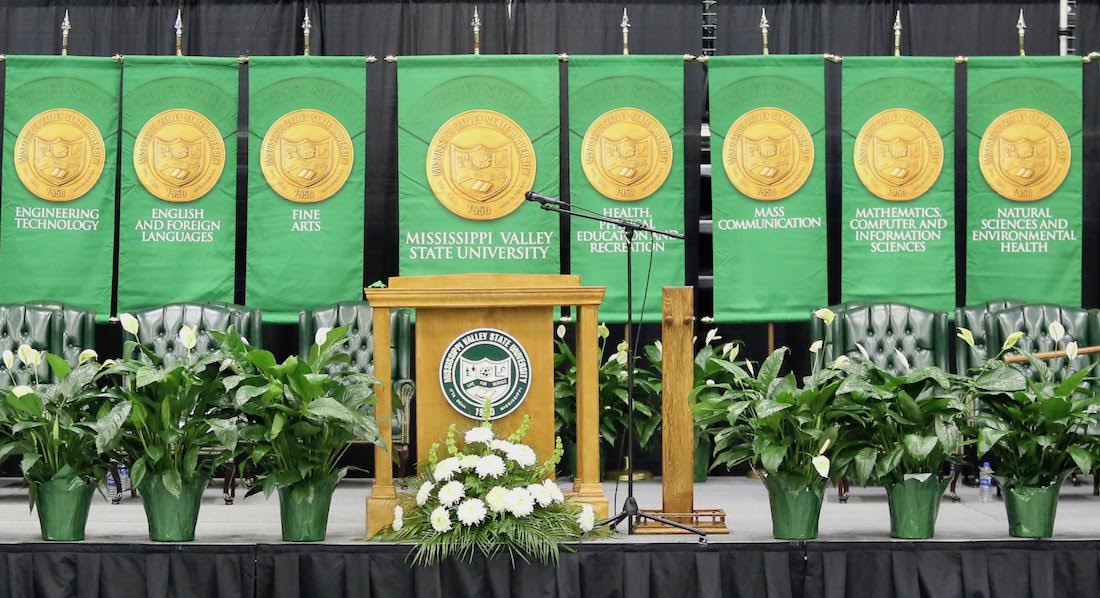 Mississippi Valley State University will hold its 70th Commencement exercise at 8 a.m., on Saturday, May 7, 2022, on the Chuck Prophet football field of the Rice-Totten Stadium.  
 
Graduates are not limited in the number of guests allowed to the event. However, in the event of inclement weather, graduates will be allowed only four guests, and the ceremony will be moved indoors to the Walter Roberts Auditorium in the H.G. Carpenter. Tickets are not required for attendance at the stadium. 
  
The commencement speaker for this year's ceremony will be Ifa Bayeza, an award-winning playwright, director, composer, novelist, and educator.  
 
Bayeza is a Distinguished Visiting Scholar and Artist-in-Residence at Brown University. She also is a cum laude graduate of Harvard University with an MFA in Directing and Dramaturgy from the University of Massachusetts Amherst.  
 
A finalist for the 2020 Herb Alpert Award in Theatre and the 2020 Francesca Primus Prize, Bayeza was the inaugural Humanist-in-Residence at the National Endowment for the Humanities and is a 2022 MacDowell Fellow.   
  
She works through creative nonfiction and fictional lens to explore pivotal intersections of race throughout history and in the present. Her critically acclaimed drama, The Ballad of Emmett Till, received a Eugene O'Neill National Playwrights Conference fellowship and premiered at the Goodman Theatre in Chicago in 2008, winning the Mystery Writers of America Edgar Award for Best Play.  
The Ballad made its West Coast premiere at the Fountain Theatre in Los Angeles in 2010, garnering six Ovation Awards, including Best Production; the Drama Desk Critics' Circle Award for Best Production; and the Backstage Garland Award for Best Playwriting. Celebrated productions followed with the Houston Ensemble Theatre, Penumbra Theatre, Renaissance Theatre works, and Ion Theatre. In addition, it earned top honors at the San Diego Critics Circle Craig Noel Awards, including Outstanding Dramatic Production.
    
Through a commission from the National Trust for Historic Preservation, she is an "artist-in-digital-residence," guiding a group of eleven writers in reimagining the history and future of the sugarcane plantation home Shadows-on-the-Teche in New Iberia, Louisiana. She also has been commissioned to create two Underground Railroad dramas.  
  
On Saturday, guests are welcome to enter Rice-Totten Stadium beginning at 7 a.m. The entrance to the stadium will be on the east side of the stadium (the visitor side of the stadium.) Seating for all guests will be in the bleachers of the visitor side of the Rice-Totten Stadium.