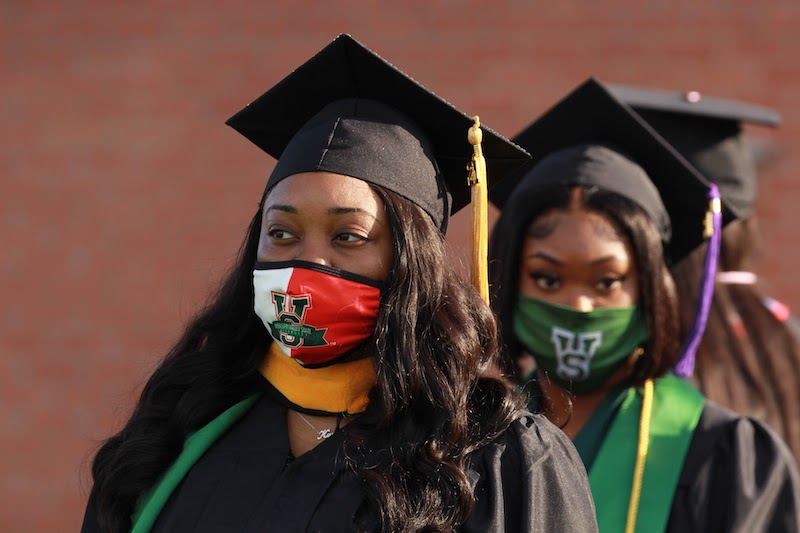 Mississippi Valley State University is pleased to announce plans to hold its Fall 2021 Commencement Exercises at 8 a.m., Tuesday, November 23, 2021.
The event will mark the second in-person Fall Commencement since Fall 2019. The in-person ceremony for undergraduate and graduate students will take place at Rice-Totten Stadium at Chuck Prophet Field.
All graduates will be socially distanced and required to wear masks. In addition, MVSU will be following the Center for Disease Control recommendations and the MVSU COVID-19 safety guidelines.
Each graduate may retrieve five tickets for guests that will only be used if the ceremony is moved indoors to the Walter Roberts Auditorium in the H.G. Carpenter Building due to inclement weather. Tickets are not required for attendance at the stadium.
The commencement speaker will be Dr. Shanesse J. Spratt, PGY-1 Emergency Medicine Resident at Magnolia Regional Health Center in Corinth, MS.
Spratt is a 2014 MVSU magna cum laude graduate with a Bachelor of Science in Biology. She was a four-year member of the women's soccer team that claimed the 2012 SWAC Championship title.
Spratt was named Female Student-Athlete of the Year in 2012 and Women's Soccer MVP in 2012 & 2013. In addition, she is a spring 2013 initiate into the Epsilon Pi Chapter of Alpha Kappa Alpha Sorority, Inc.
Her passion for helping others was ignited at Valley when she joined the Health Outreach Peers Program. She was instilled with the core values of hard work, discipline, and perseverance through the Gateway Leadership Ambassadors Program, which allowed her to travel to Africa and Belize, and further, understand the impact and importance of diversity throughout the world.
Upon graduation from The Valley, Dr. Spratt continued her studies at Washington University in St. Louis to pursue her dreams of becoming a physician and completing medical school prerequisites.
During this time, she volunteered at SSM Health St. Mary's Hospital to further solidify that a career in medicine was her passion and purpose. She graduated in 2016 with a Pre-Medical Post-Baccalaureate.
Dr. Spratt earned the Doctor of Medicine from the University of Mississippi Medical Center (UMMC) in May 2021. During her time at UMMC, she was involved in student activities. She served as Vice President, and Treasurer of the Student National Medical Association was elected to the Class of 2021 Student Council, and was the Co-Intramural Sports Chair.
Also, she was appointed to the Associated Student Body Co-Diversity and Inclusion Committee. Dr. Spratt also enjoyed volunteering with the Jackson Free Clinic to provide care to the underrepresented and uninsured population and serving on the School of Medicine Admission Interview Committee.