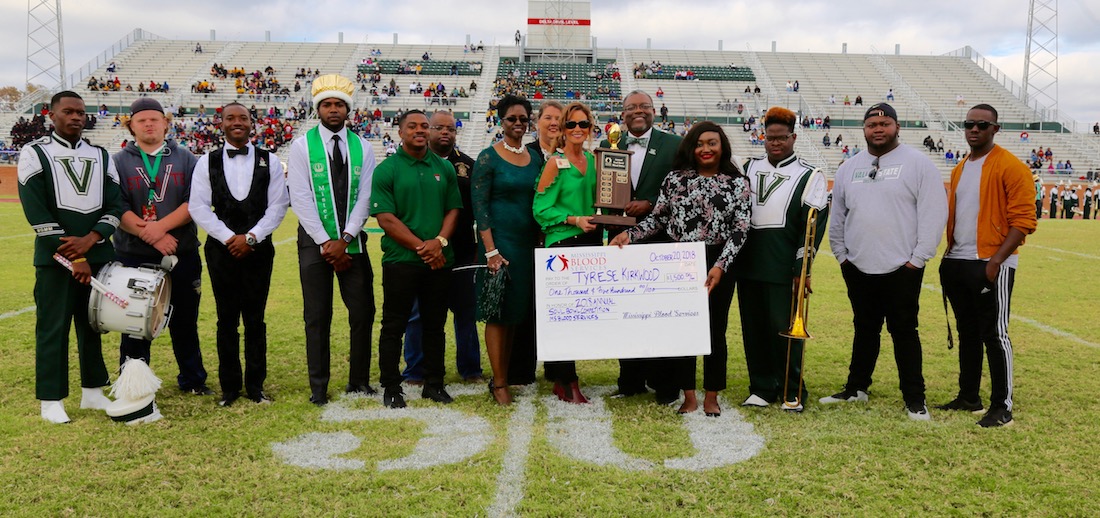 ITTA BENA, Miss.— Last month, Mississippi Valley State University faced-off against Jackson State University and Alcorn State University in the Annual Soul Bowl Blood Drive, a friendly competition to see which university can get the most blood donations over three days.
This year, MVSU has once again come out on top.
Organized each year by the Zeta Phi Chapter of Alpha Phi Alpha Fraternity, Inc. on MVSU's campus, the announcement marks the fourth consecutive year that The Valley has earned the Soul Bowl Trophy.
In addition to the trophy and bragging rights, the winner of a $1,500 scholarship was also selected. Emily Austin, Mississippi Blood Services (MBS) marketing & communications manager, pulled this year's lucky winner—Tyrese Kirkwood of Crenshaw, MS.
During the competition, MVSU Alphas managed to register a total of 111 people, producing 85 units of blood.
 "When someone donates one unit/pint of blood, that donation helps to save up to three individuals' lives. Just think, 85-units of blood were donated at Mississippi Valley State during the Soul Bowl, so the lives of 255 fellow Mississippians who desperately needed it most were saved," said MBS Delta Representative Dawn Woods.  
Jordan Freeman, president of the Zeta Phi Chapter, expressed his gratitude for those who supported the blood drive.
"We are thankful to everyone for their support during this event. Encouraging people to donate blood is an important mission for us, and it would not have been possible without the help of the campus community," Freeman said.
According to Freeman, the best part about hosting the blood drive is that its impact extends beyond the competition.
"The blood drive is important to us because we become a part of the effort to save several lives with the blood donations we collect," he said. "It's also an opportunity for us to inform others about how helpful their donation can be. It's a great feeling being able to help those in need and to extend our knowledge to others."
During this year's Soul Bowl Blood Drive competition, Alcorn totaled 34 units of blood and Jackson State totaled 29 units of blood.