By Jasalyn Lucas, Communications Specialist 
On April 2, 1998, Mississippi Valley State University Alum, Angela Ellis joined the Mississippi Army National Guard as a 17-year old Private (E1).
Twenty-three years later, Ellis is making history as she was promoted to Sergeant Major (E9), making her the first female to be promoted to this rank in the 210th Finance Support Group. Ellis is also the first African American female Command Sergeant Major in the state of Mississippi.
With the many enlisted soldiers in the Mississippi National Guard, less than one percent make it to the grade of becoming a sergeant major, which is the highest enlisted military rank. Ellis is delighted to have this position and grateful because of how rare it is to earn.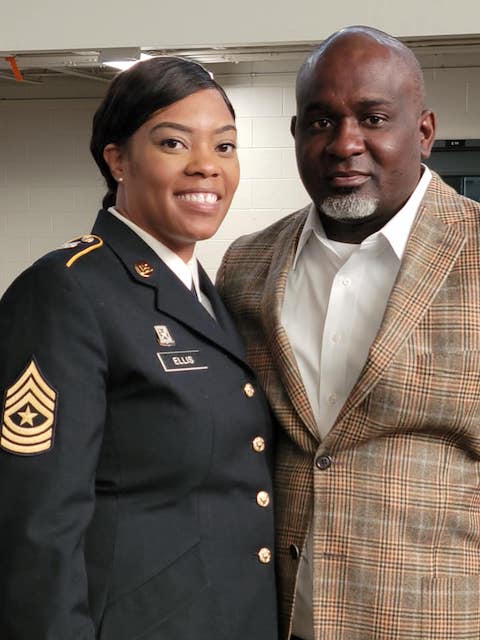 "I am beyond speechless to have earned this position. I wanted this position because I love to mentor, and I want to help guide younger enlisted soldiers in their careers and to be successful. I want them to get as far as they can, and I look forward to putting them on the right track," said Ellis.
Ellis is a native of Yazoo City, Mississippi, where she attended Yazoo High School. She then because a student at MVSU from 1998-2002, where she obtained a Bachelor of Science degree in Business Administration.
During her time at MVSU, she was a part of the ROTC program; she was a softball team member and was named an All-SWAC performer as a catcher. Ellis was a statistician for football and basketball. She was also initiated to the Epsilon Pi Chapter of Alpha Kappa Alpha Sorority, Inc.
Ellis enlisted in the Mississippi Army National Guard (MSARNG) on April 2, 1998, as a Finance Specialist in the Headquarters in the 210th Finance Battalion.
She then attended Basic Combat Training and Advanced Individual Training at Fort Jackson, South Carolina, where she received the Military Occupational Specialty (MOS), 73C Finance Specialist. Additionally, she was awarded the 51C, Acquisition, Logistics, and Technology (AL&T) Contracting Non-Commissioned Officer (NCO) MOS.
"The reason I joined is that I was inspired by my recruiter, which I knew personally, and I thought about all of the benefits I would get for college and the ability to travel," she explained.
Ellis is all about giving back, and she works tirelessly to be sure and try to leave a positive impact through leadership for upcoming soldiers.
"I want younger soldiers to look up and be inspired by my journey," Ellis said. I feel like I am breaking ceilings. Like Kamala Harris never thought she would be where she is today, I think the same way because not that many women of color have this kind of position," Ellis said. 
Currently, Ellis works for United States Property and Fiscal Office, serving as a contracting officer for purchasing and contracting division.
She is also an active member of Alpha Kappa Alpha Sorority, Inc., Omega Beta Omega Chapter in Yazoo City, and the National Guard Association of Mississippi. She resides in Clinton, Mississippi, with her husband, Cedric, and their four children, Raven (Brandon), Talia, Jeremiah, and Willow.