On Monday, January 11 at 7 p.m., the Alabama Crimson Tide and The Ohio State Buckeyes will play for the 2021 NCAA National Football Championship at Hard Rock Stadium in Miami Gardens, Florida.
While all eyes will be on the players and coaches, a Mississippi Valley State University alum will also participate.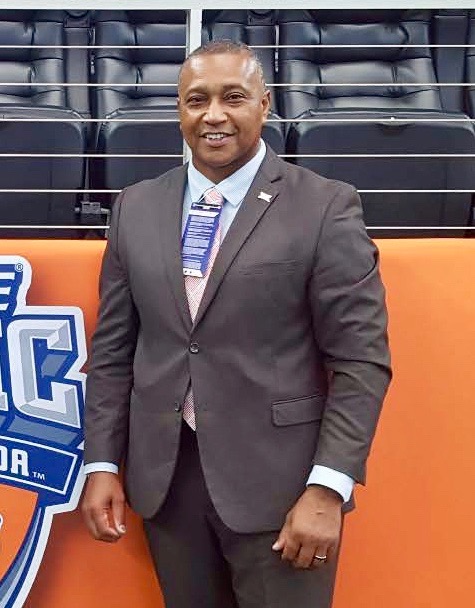 Fulton C. Carson (88) will become the first Mississippi native in the Division I FBS National Championship game's history to serve as one of the officials. Carson was recently one of the referees in his first-ever Big 12 championship game. He will be a side judge when Alabama takes on Ohio State.
"It is a huge accomplishment for me," said Carson. No matter if it's the national championship game or the JV championship game, you focus on the rules, and integrity is a huge part of it. I still go back to middle school and high school days officiating in the Mississippi High School Activities Association (MHSAA), and there were many great officials out there with me. I carry a little bit of those guys on the field with me this year and every year."
Carson pointed out that the officials' work ethic heading into the game is vital to each contest.
"Knowing that those kids are out there, they've put in a lot of work to get to that level, and so do officials. We don't just get down off the tractors and come out and officiate as most people think. For every game, there are countless hours of rule study and film review of players. We know the players better than we know ourselves by the time we walk out on that field. So, there's a lot of study and training associated with it, and collaboration with other officials, and it works well."
Carson got his start right here in the Magnolia State as a baseball and basketball player before officiating those same kinds of games through the MHSAA.
Born in Vicksburg and a native of Raymond, Carson has been in sports officiating for over 25 years. The former MVSU baseball standout got his start in 1995 with the MHSAA. Since then, he's officiated games in the American Southwest Conference, South Western Athletic Conference, Southland, Mountain West, and the Big 12.
Through the years Carson has officiated in numerous NCAA Football Bowl games that include: Pinstripe Bowl at Yankee Stadium 2019 (Wake Forrest vs. Michigan State), AdvoCare Classic 2017 (Michigan vs. Florida), Celebration Bowl 2016 (Alcorn State vs. North Carolina A&T), FCS National Championship Game 2015 (North Dakota State vs. Illinois State), FCS National Playoffs (2010-2014), Liberty Bowl 2012 (Tulsa vs. Iowa State), SWAC Championship Game 2008 (Grambling State vs. Jackson State), Bayou Classic 2007 (Southern University vs. Grambling State).
Carson earned a Bachelor of Science in Industrial Technology and Architecture from MVSU. Away from the field, he works as a Computer Scientist for the Engineer Research and Development Center Waterways Experiment (ERDC).
Most recently, Carson was excited to watch his daughter, Shelby, sign to play softball and attend his beloved MVSU.