Mississippi Valley State University alum Larry Webster Jr., Ph.D., of Greenville, Mississippi, was recently named the dean of the Division of Career and Technical Education at Coahoma Community College.
Webster seeks to ensure all sights in his division are set on a shared vision that meets students' needs with the new position. Through this vision, he hopes to unlock limitless paths to personal, professional, and institutional growth.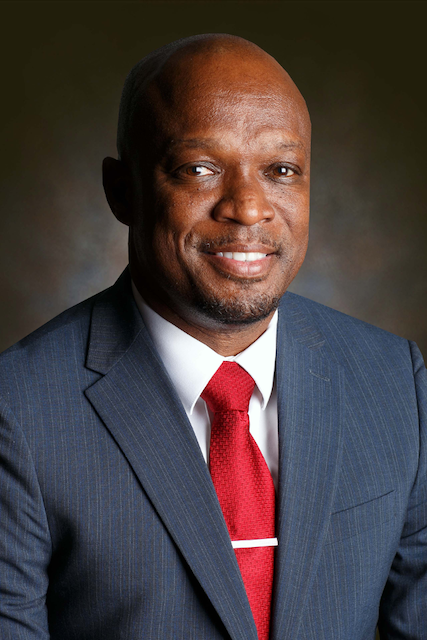 "I believe that my new leadership role here as CTE dean means that I will have an opportunity to establish and cultivate relationships with faculty, staff, and administrators across the college that will allow the CTE department and the college to advance the overall mission of the college," said Webster. And in turn, position CCC to become one of the preeminent institutions and training hubs within our state for growing a skilled workforce that prepares our students to compete in a global economy."
Webster's professional journey began at the educational oasis that is MVSU, and he believes the imprint the university made on him has shown throughout all he has accomplished.
Webster received his bachelor's in sociology from MVSU in 1995.
"Mississippi Valley State University, for me, was more than just an educational institution. It was a place where the professors, staff, and administrators were genuinely invested in me as a person," he said.
"Many of the professors taught lessons beyond the textbook, imparting little nuggets that prepared me for the real world—people like Drs. Curlew and Barbara Thomas, Dr. J.B. Flowers, Richard Rose, Barbara Washington, and Lawrence Sutton taught me how to navigate life's journey, not just as a scholar but as an African American.  To them, I was more than just a number," Webster added. 
Webster believes that MVSU grew him up, and if it had not been for the Valley, he explained that many of his accomplishments might not have happened. 
"Becoming a Valley graduate gave me the confidence and belief that I could compete with anyone in my educational and professional pursuit of happiness. At the Valley, I learned how to build and cultivate relationships with people from all walks of life," Webster said.
Webster earned a master's in community development and a Master of Education in social science from Delta State University, and a doctorate in human capital development from the University of Southern Mississippi.
He credits his parents Leo and Joyce Jennings, and grandmother Almeta Rhodes for preparing him for entrance into a new stage of his career. "They instilled in me at an early age the importance of having a good work ethic and setting goals," he said.
Past supervisors, including Dr. Glenn Boyce, Joan Rowe, Dr. Deborah Moore, Sherrie Cheek, Dr. Jim Haffey, Dr. Amy Whittington, and Dr. Valeria Williams, have also played a part in sculpting him for his current role.
Coahoma Community College president Dr. Valmadge T. Towner says Webster's background, experience, and passion could catapult the Career-Tech division to high altitudes of departmental success.
"We are optimistic about Dr. Webster joining our team," said Towner. "He is eager to build on past successes of the CTE division, and he is anxious to partner with faculty and staff to help our students reach their goals."
Webster is married to Michelle Byrd and the father of Branden, Ebonee, and Larry Caleb.
Webster is a proud member of the Rho Gamma Lambda chapter of Alpha Phi Alpha Fraternity, Incorporated, as well as the Community Development Society, Boys and Girls Club of Washington County Board of Directors, Chief Career Technical Officials and Deans Association, Human Capital Development Society, and various other organizations. He enjoys golfing and exploring by travel.