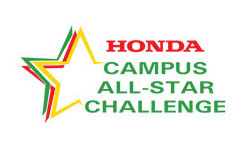 Mississippi Valley State University will compete in the National Qualifying Tournament of the 31stannual Honda Campus All-Star Challenge (HCASC), America's premier academic competition for top HBCU students. The fast-paced buzzer competition highlights students' academic prowess and ability to answer questions about history, science, literature, religion, the arts and pop culture. MVSU is one of 65 teams competing for institutional grants and a spot in the HCASC National Championship Tournament taking place on the American Honda campus in Torrance, Calif., March 28 – April 1, 2020.
Honda Campus All-Star Challenge is a year-round program that centers on academic excellence, community service, leadership, networking opportunities and mentorship. It includes campus engagement, qualifying tournaments and culminates with the National Championship. Since 1989, Honda Campus All-Star Challenge, one of Honda's longest-running philanthropic initiatives in the United States, has celebrated and recognized the academic talents of HBCU students. More than $9 million in grants from Honda have provided support for scholarships, facility upgrades and other investments to improve the HBCU student experience. 
WHEN: Saturday, February 8, 2020 – 9:00 a.m. to 6:00 p.m.
WHERE: Prairie View A&M University (Prairie View, TX)
                Memorial Student Center
VISUALS: Highlights from last year's Honda Campus All-Star Challenge: https://youtu.be/FIo0DUD4v20  
ONLINE: www.hcasc.com
For the full list of competing HBCUs, visit: https://www.hcasc.com/nqt/teams.asp.
MY HBCU IS A WINNER: To help MVSU qualify for the National Championship, vote at bit.ly/HBCUWinner2020 from January 29 - February 10. Register and vote up to three times per day. The three top vote-getting HBCUs will automatically advance.
Connect with HCASC via social media using #HCASC! Follow HCASC on Facebook at www.facebook.com/HCASC, Twitter at www.twitter.com/HCASC, and Instagram at www.instagram.com/hcascpix