ITTA BENA, Miss.—A Mississippi Valley State University faculty member was recently bestowed with two prestigious technology professional honors.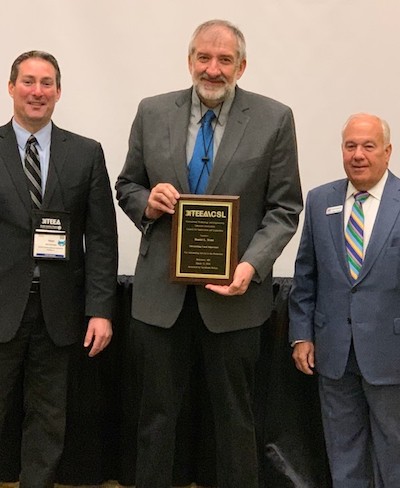 Dr. Daniel Trent, an associate professor in the Department of Engineering Technology, received the Outstanding Local Leader Award from the International Technology and Engineering Educators Association (ITEEA) Council for Supervision.
In addition, Trent was selected as the winner of the 2020 Warner Professional Practice Award for Region 2. The honor was given to Trent from the Board of Directors of Epsilon Pi Tau (EPT) during the annual ITEEA conference, hosted March 11-14 in Baltimore. 
During the conference, Trent also delivered a presentation entitled "Increasing STEM Awareness in Under-Served Communities" and led a panel discussion on the topic "Encompassing STEM Careers."
In addition, he participated in a STEM Showcase, where he displayed a project completed by students in his Civil and Hydrological Drafting class. 
"The diorama was very well received and was one of the most visited displays out of 100 at the event," Trent said.
The ITEEA leadership award is given by a committee of expert peer reviewers and is one of the highest honors of achievements from the association. Trent was selected based on his demonstration of leadership and management skills at MVSU, within the association, and the community. 
As an EPT regional chapter award recipient, Trent received a certificate and award check in the amount of $500. Additionally, he will be featured as the 2020 Warner Award winner in the next issue of the EPT Preceptor newsletter. 
Antonio Brownlow, acting chair of the Engineering Technology department, said Trent is very much deserving of both honors. 
"Dr. Trent is a committed and dedicated faculty member. He's always very creative in the delivery of his instructions, and he demands the best out of all his students," Brownlow said. 
"We are fortunate to have him connected to this university and our department," he added. 
Trent received his bachelor's and master's degrees from Virginia Institute of Technology and his Ph.D. from Old Dominion University. 
He has served as a faculty member at New River Community College and Southwest Virginia Community College and worked stints as a design engineer for EIMCO Corporation and as a technology education teacher for middle school students at Tazewell County School before joining MVSU's faculty in 2009.
To learn more about ITEEA, visit www.iteea.org.