By: Jasalyn Lucas, Communication Specialist
Mississippi Valley State University scholar Kristopher Bond has been selected as a 2021 scholar by the White House Initiative on Historically Black Colleges and Universities.
It was the day of his birthday when Bond first got the word that he had been selected for this program. With excitement in his heart, he felt that determination and the belief that anything is possible are the forces that drive his commitment to his dreams.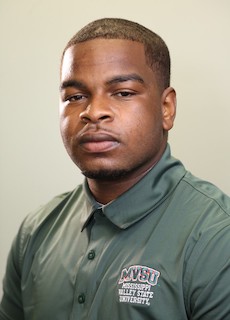 "This accomplishment helps me cross out another thing on my bucket list. This is something I have dreamed of doing since I stepped foot on my beloved campus," said Bond.
Bond is a senior Business Administration major and current Student Government Association (SGA) President. He values representing Valley in all that he does.
"With this position, I not only represent Mississippi Valley State University, but I also represent my hometown of Harvey, Ill.," he explained.
The program recognizes 86 undergraduate, graduate, and professional students for their academic accomplishments, leadership, and civic engagement.
Bond is a part of eight cohorts and was chosen from a plethora of other applicants. He is beyond grateful to be one of the chosen.
"I am thankful to God," he said. I feel like all of my praying, and hard work is starting to pay off up to this point. I have sacrificed a lot and will continue to work diligently."
The White House initiative program guides students in their professional lives. Participants will network with nonprofit businesses and federal leaders to learn about challenges and provide solutions to things they may face in the working world. In addition, these HBCU scholars will serve as ambassadors of the Initiative and their respective institutions throughout the school year.
"The Initiative will provide scholars with information about the value of education as well as networking opportunities. Scholars will also be able to share these resources with their fellow students," said Bond.
Bond will take on this new position with the White House Initiative and be balancing his SGA role and plans to show students the power of being balanced.
"I have a wonderful executive cabinet that would go above and beyond for the students on campus. I also have learned ways and methods to organize effectively. In addition to these things, having the mindset to do the most with the 24-hours I am given daily will help me to remain productive," said Bond.
Bond plans to be a sponge in this environment by soaking up all the information to bring it back to the campus. He also plans to advocate on behalf of Valley in this realm and help keep Valley in Motion.
Additionally, Bond completed an internship with the American Honda Motor Company who makes the Honda and Acura cars.
"I was an intern in the Talent Learning & Development sector as well as having my hand in the pot with the Talent Acquisition sector," he said.
Bond was responsible for developing knowledge in company management to create a virtual new hire orientation course.
"I was expected to communicate with a team to provide management with creative marketing techniques to recruit new talent. In addition, I reviewed new hire applications and assists employees with completing prescreening requirements before beginning the assigned position," he added.