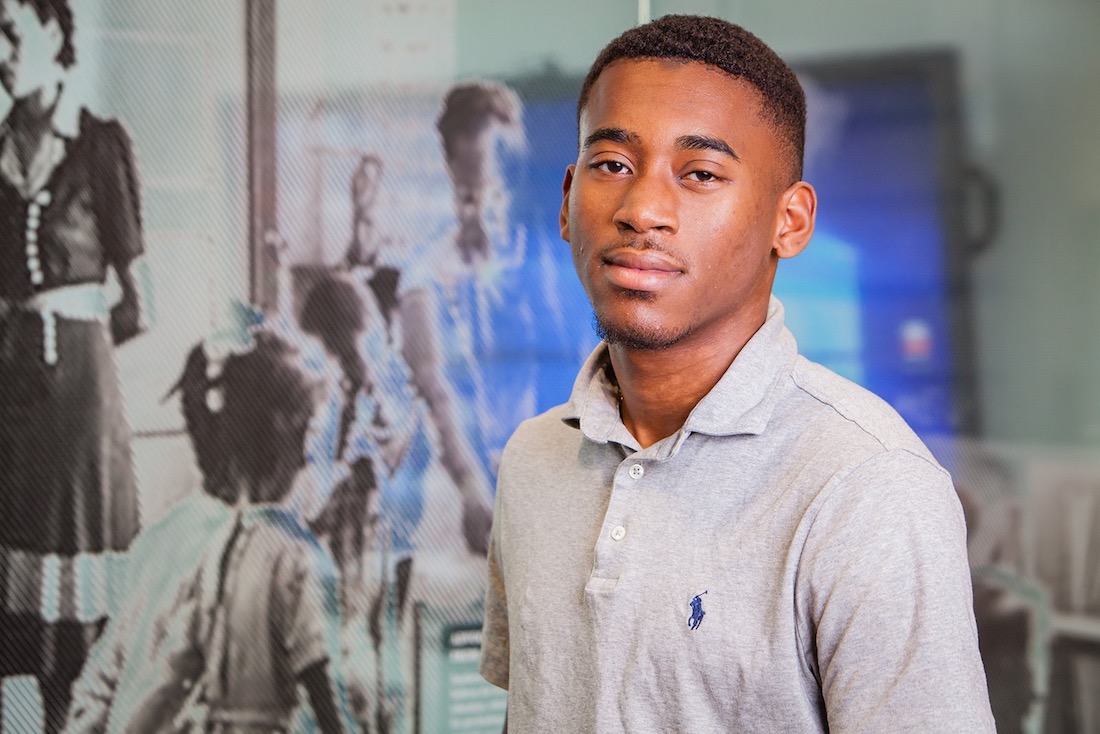 ITTA BENA, Miss.—Philemon King, a rising junior at Mississippi Valley State University, is spending his summer changing the narrative about educational opportunities in the South after landing a competitive fellowship with the Southern Education Leadership Initiative (SELI).  
SELI is an intensive, eight-week, paid summer fellowship for emerging leaders interested in advancing racial equity and improving education across the pre-k through college continuum. 
According to SELI, more than 200 students applied for this year's fellowship, with 20 stellar candidates— including King—rising to the top of the pool. 
The 2019 cohort of exceptional young leaders represent 18 schools across the South, including five Historically Black Colleges and Universities (HBCUs). Placed in nonprofits, school districts, or state education agencies in the South, SELI fellows spend the summer developing as leaders, engaging with valuable stakeholders, and acquiring practical job skills through direct learning experiences.
King, a Computer Science major at MVSU, has been placed with Foundation for the Mid-South in Jackson where he is supporting their efforts to increase graduation rates and improve males of color's success throughout Arkansas, Louisiana, and Mississippi.
"My experience is going great," said King, who is a resident of Greenville, Miss., by way of Orange Park, Ga I have been identifying barriers and opportunities in improving the success of African American males. The Foundation for the Mid-South's goal is to increase graduation rates, while also determining if there is a need to develop a training curriculum for administrators and teachers," he added.
As a SELI fellow, King is learning about the South's most pressing education issues and growing as change agents for social justice.
"This fellowship means a lot to me because I get to witness for myself the educational disparities in the Mississippi Delta by researching school districts and studying their profiles," said King. 
To resolve the educational inequity that exists in this nation, SELI leverages research to identify and highlight issues that impact student learning outcomes occurring along racial and socioeconomic lines. 
King said that the research has been eye-opening. "My parents are educators who own a Christian academy in the Delta. They worked hard to make sure I had the necessary educational tools to succeed. With the research I have gathered, I have come to realize that many of my peers did not have the same resources,"' he said. 
"I would like to see the school districts in Mississippi, which are overwhelmingly African American, become more balanced to ensure the success of African American males," he added. 
Designed to educate the public to act, SELI's evidence is used to provide capacity building support to school system leaders and advocates.
"A part of my responsibility is to complete an analysis to determine what school districts are disproportionately affected in the Mid-South's region and could benefit from having highly-qualified teachers in the classroom," King explained. "This information will assist the program team in identifying strategies for improving education in the region, addressing community needs, and putting theory into practice."