ITTA BENA, Miss.—A Mississippi Valley State University staff member was recently selected to serve as vice president for a state organization dedicated to ensuring student success.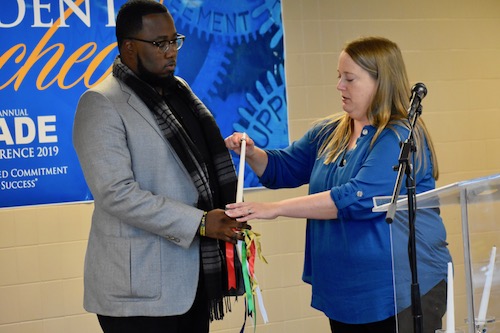 MVSU's Director of Developmental Studies and Academic Support Larry D. Kinds, Sr. was named vice-president elect for the Mississippi Chapter of the National Organization for Student Success (formerly Mississippi Association for Developmental Education) last week. 
Kinds was unanimously elected for the position during the organization's 38thAnnual Conference, hosted Nov. 7-8 on MVSU's campus.
He said he's excited about the opportunity to help the organization strive towards its mission to improve the theory and practice of developmental education and student's success. 
"I am honored to be elected as the Vice President of NOSS, MS Chapter" Kinds said. "I am humbled that my peers in developmental education would nominate me."
A native of Greenwood, Kinds is a graduate of Mississippi Valley State University where he obtained a bachelor's degree in Education and a master's degree in Business Administration.
The former America Reads MS (Americorps) Tutor has worked for the Greenwood Public School District as a Certified Tutor and a Computer Technology Asst. 
In 2011, Kinds returned to his alma mater to serve as a counselor for the MVSU Office of Student Financial Aid. In 2016, Kinds joined MVSU's University College team as the Summer Developmental Coordinator, and later became the director of Developmental Studies and Academic Support. 
Kinds said his passion has always been motivating and helping students achieve academic success. 
"Throughout my entire career, I have always maintained a position that would allow me to help students progress in some capacity. One of my personal goals is to ensure students in Mississippi are successful in college and beyond," he said. 
The Mississippi Chapter of NOSS was founded in January of 1981 when James Barber, from Copiah-Lincoln Community College in Natchez, called together a group of developmental educators from across the state to form an organization based on the National Association for Developmental Education.
Over the years, the Mississippi Chapter of Noss has become a driving force in colleges and institutions across the state, ensuring that students receive an education that is based on their beginning capabilities and one that will take them as far as they can go.
For more information about NOSS, visit thenoss.org.
To learn more about MVSU's Emerging Scholars (Summer Development) program, call (662) 254-3446 or visit www.mvsu.edu.