ITTA BENA, Miss.— A Mississippi Valley State University faculty member is the recent recipient of two distinguished honors.
​Shannon Bowden, an instructor of Speech Communication and vice president of the MVSU's Faculty Senate, was recently awarded a $24,500 grant award from the Mississippi Delta National Heritage Area (MDNHA) to fund her research project, "Breaking Bread: Itta Bena, MS in the Civil Rights Movement."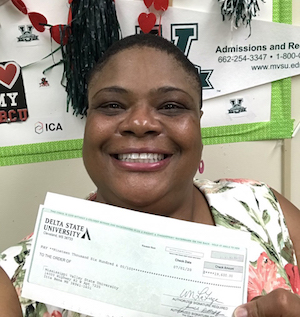 On top of that, Bowden was selected to participate in the Solutions Journalism Historically Black Colleges and Universities Educators Academy from July 6-7, 2020, at Howard University in Washington, D.C.
The HBCU Academy is designed for university journalism faculty members at historically black colleges and universities interested in learning how to teach solutions journalism in the classroom and how to incorporate it into student newsrooms at the collegiate level.
"I want to thank Dr. Samuel Osunde, my department chair, for his guidance and encouragement to apply to the Academy to incorporate solutions journalism into the curriculum, which will be another tool for meeting student- learning outcomes in our classes," she said.
Bowden is also excited about her research project and what it will mean for MVSU and the Itta Bena community.
"I am thrilled and appreciative to be selected as a Mississippi National Heritage Association grant recipient for the "Breaking Bread: Itta Bena in the Civil Rights Movement" project. When I first heard about Dr. Martin Luther King being jailed and marching through Itta Bena, I was amazed and wanted to document it," Bowden explained. 
Bowden said she believes that it is important to document the historical role the Mississippi Delta played in the Civil Rights Movement.
"It's a story that needs to be told and documented in Itta Bena. When I first heard about the grant opportunity, I immediately jumped on it, because I knew that this project would be a great opportunity for our students in the Department of Mass Communication to apply and sharpen their skills, and the city of Itta Bena."
Bowden said she learned about the MDNHA program from an MVSU colleague and was appreciative of all the support she received. 
"I am thankful to Dr. LaShon Brooks who first informed me about MDNHA in 2017 and all of the great things that they do," she said.
"I was personally touched by the support from the members of New Bethel Missionary Baptist Church in Itta Bena, who was very inspirational and supportive of the project," she added.