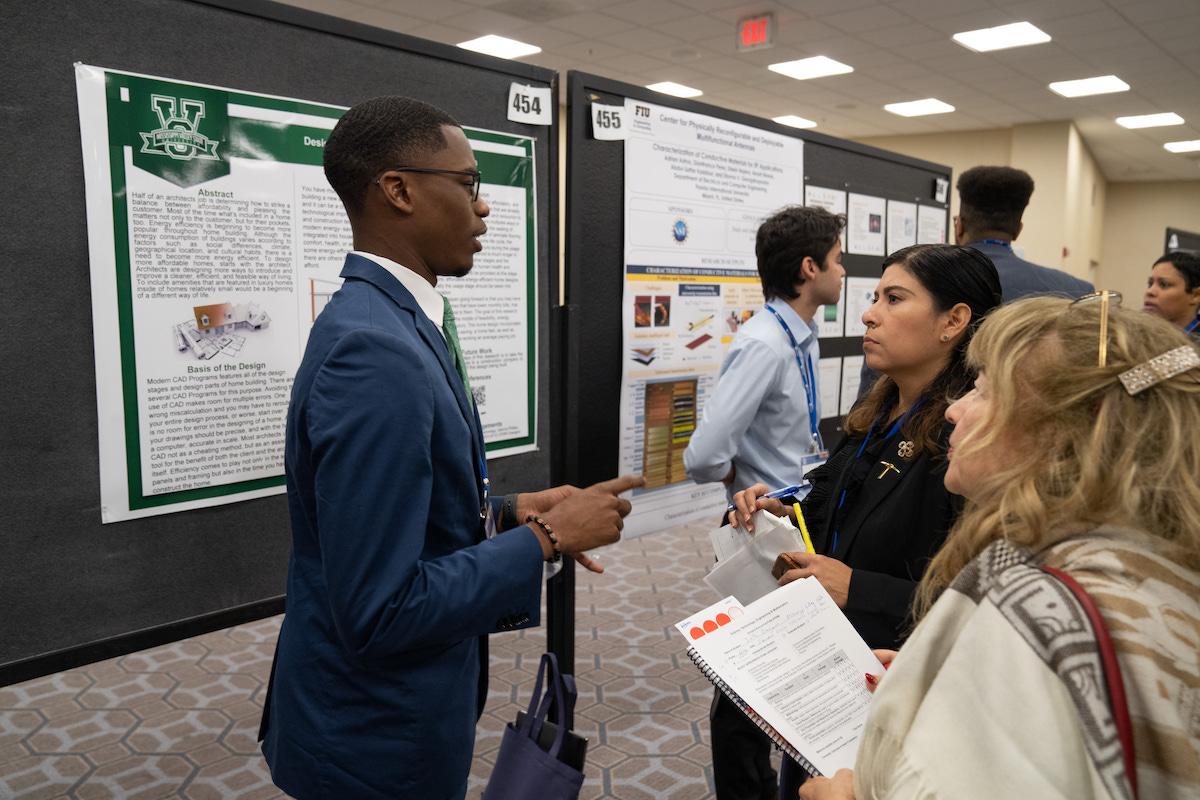 ITTA BENA, Miss.— A Mississippi Valley State University student is hoping to make his community more "green" through research he recently presented during a national science, technology, engineering, and mathematics (STEM) conference.
MVSU senior Justin Baymon attended the Emerging Researchers National (ERN) Conference in Science, Technology, Engineering and Mathematics (STEM) in Washington, D.C., where he presented a research poster on the topic, "Designing Affordable Energy Efficient Homes."
The annual conference is designed to help undergraduate and graduate students enhance their science communication skills and to better understand how to prepare for science careers in a global workforce.
Baymon, an Engineering Technology major from Memphis by way of Belzoni, Miss., said he's hopeful the research will one day make an impact in the region.
"My presentation explored how constructing energy-efficient homes in the Mississippi Delta could be the change that is needed," explained Baymon. "But the spin on my presentation was that while the homes would be smaller, they would also include luxury features."
Baymon said he enjoyed the opportunity to present his ideas in front of a national audience.
"My experience at the ERN Conference was like none other. It was great to be able to share your ideas with the world," he said.
"My days were filled with meeting new people, sharing ideas, networking and becoming acquainted with like-minded colleagues. The ability to see the variety and diversity of the students made the experience so much better," Baymon added.
While Baymon enjoyed the opportunity to meet and speak with several people in the different graduate programs, one, in particular, stood out.
"I had the honor of speaking with Dr. Sacoby Wilson, associate professor of applied environmental health at the University of Maryland, who is also a fellow member of my fraternity—Alpha Phi Alpha Fraternity, Inc."
In addition, Baymon is also a drummer in the MVSU "Mean Green Marching Machine" as well as a member of the Kappa Kappa Psi National Honorary Band Fraternity.
Baymon said he was encouraged to attend the conference by his academic advisor Antonio Brownlow and professor Sabrina Phillips.
The ERN Conference in STEM is hosted by the American Association for the Advancement of Science (AAAS), Diversity, Equity, and Inclusion (DEI) Programs and the National Science Foundation (NSF) Division of Human Resource Development (HRD), within the Directorate for Education and Human Resources (EHR).
To read more about the conference, visit www.emerging-researchers.org.
For more information about MVSU's Engineering Technology program, e-mail  abrownlow@mvsu.edu or visit www.mvsu.edu.