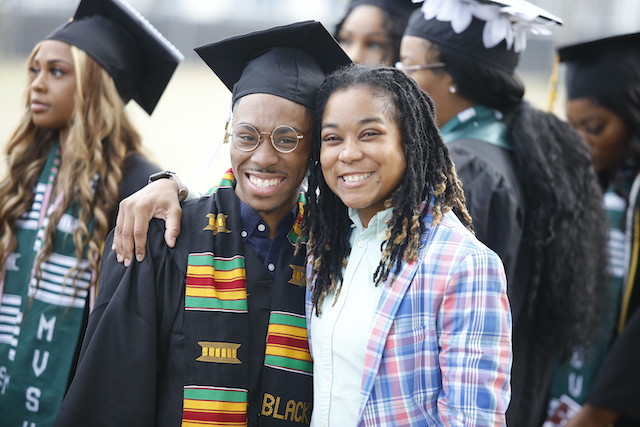 ITTA BENA — Mississippi Valley State University graduates received encouraging words on Saturday, Dec. 10, 2022, from Anthony "Tony" Mitchell, who shared with students four life lessons to help correct them for where they are going.
Nearly 130 graduates participated in the Fall 2022 exercises, including Mitchell, who explained to the audience that he never had the opportunity to participate in his commencement exercise.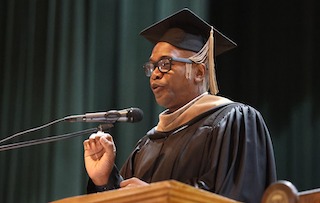 "When it came time for me to graduate from Hampton, I, unfortunately, found myself three credits short and had to take a six-week accounting class," said Mitchell. I never put on a cap and gown, and that's one thing I have regretted in my career, and so today, I am going to graduate and put on the cap and gown with you so I will also be a member of the class of 2022," he added.  
Dr. Jerryl Briggs, the eighth president of MVSU, presided over the ceremony and encouraged the graduates to "cherish the day, cherish the opportunity."
Mitchell explained to the graduates that being smart is essential, being life smart is helpful, but being a caring and understanding person is priceless.
"You have to listen to your inner voice," Mitchell said. I need you to think back to moments when you were happy and at peace; what were you doing, and who were you doing it with?"
He added that this mindset would help students find their passions and go after them. "I have learned that when you chase money, you earn every dollar of that money."
Mitchell also encouraged students to value human connection.
"Human connection is not your cellphone. So Facebook likes and YouTube likes are irrelevant; it's not real," said Mitchell.
He shared with the graduates about one of the most challenging times when his mother and father both passed away within seven months of each other.
"My parents never got to see me walk across the stage and graduate, so with you all today, I am graduating for my parents, and I am graduating with you guys. I have learned through those experiences that storms don't last forever, and neither do rainbows," he said.
President Joe Biden selected Mitchell as the Senior Deputy Chair of the National Endowment for the Humanities (NEH) in Washington, D.C., in August of 2022.  
Mitchell received a B.S. in Business Management with an emphasis in Labor Relations from Hampton University, making him the first HBCU graduate to hold his current position.
Mitchell served as the Acting Assistant Chair for Planning and Operations from March 2021 to June 2022.
He was also the NEH's Chief Human Capital Officer and Director of the Office of Human Resources for 14 years. 
Before Mitchell's career with NEH, he was the director of employee benefits and Work-Life programs for the Transportation Security Administration and as assistant director of employment and compensation for the Court Services and Offender Supervision Agency. 
Mitchell started the ELF Project in 2006, a nonprofit organization supporting the children of Turner Elementary School in Washington, D.C.