By Donell Maxie, Communications Director 
George Ivory is returning home, but this time the long-time basketball coach will be calling plays from behind a desk as the new Director of Alumni Relations in the Office of Alumni Affairs at Mississippi Valley State University.
Ivory, a 1988 MVSU graduate, former standout Delta Devils basketball player, and assistant coach, is excited about returning to his alma mater.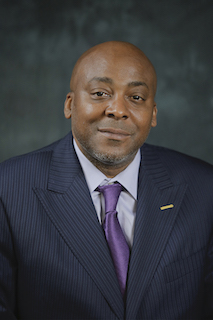 "I feel it's an honor and privilege to be able to work at your alma mater and give back to a university that gave so much to me," he said. In addition, Ivory says, "I would like to continue the success Mr. Winfield had in place, which was reaching out to our fellow alums, friends, and community of the University."
Dameon Shaw, Interim Vice-President of Advancement, shared his thoughts on having an alum of Ivory's background back working with the university.
"It's a great opportunity to have Mr. Ivory join the advancement team. He is an accomplished individual, and we will do everything in our power to ensure he has all of the support necessary to transition into this new position in alumni affairs," Shaw said. 
Having spent most of his higher education career as a coach, Ivory believes his experience on the sideline will aid in his role as an alumni affairs officer.
"The biggest part of my job is connecting with people, and that is something I have done for 30 years. This transition for me is still about building relationships, and I am excited about bringing people together for the betterment of Valley State," Ivory said.
Ivory recently attended his first event away from Atlanta, Ga., at the MVSU Atlanta Metro Alumni Chapter's Valley Scholarship Golf Classic.
"It was a great opportunity to mix and mingle with people I have not seen in a long time," said Ivory. I am looking forward to meeting more alumni chapters and working with them to make sure we are all on the same page to keep Valley in motion."
Ivory comes to MVSU after serving as the Head Men's Basketball Coach at the University of Arkansas at Pine Bluff. He started as head coach at UAPB in 2008. He graduated from MVSU with a Bachelor of Science Degree in Health, Physical Education, and Recreation. After trying out professionally with the Chicago Bulls, Harlem Globetrotters, and Illinois Express, he was drafted by the Wyoming Wildcatters of the CBA.
He received his master's degree in 1996 from Jackson State University while working as a graduate assistant with the Lady Tigers basketball team.