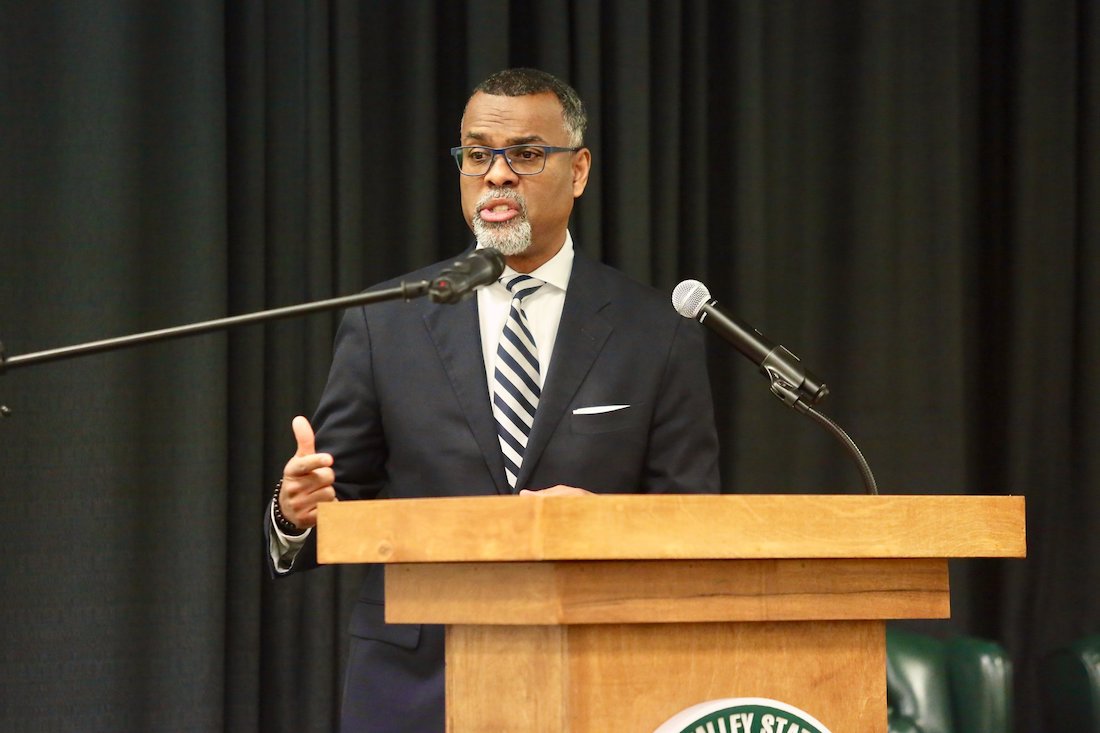 ITTA BENA, Miss.—"You cannot sit in your youth and not take responsibility for the world that's coming into being," said Dr. Eddie S. Glaude, Jr. to young people sitting among the audience in Mississippi Valley State University's Carver A. Randle Auditorium.
"We are in the midst of an election cycle that's going to require you. The country is in the midst of a transition and it's up to you," he added.
Glaude, who serves as the chair of the African American Studies program at Princeton University, was the keynote speaker during MVSU's 2020 Martin Luther King, Jr. Black History Convocation Thursday, Feb. 27.
The annual event was well-attended by MVSU students, faculty, staff, alumni and community members. The program included an occasion from Mr. MVSU 2019-2020 John McCall III of Sidon, Miss., and an introduction of the speaker by MVSU Mass Communications major Jaylin Smith of Greenwood. 
The MVSU University Choir also rendered selections including "Ezekial Saw the Wheel" and a moving rendition of "If I Can Help Somebody," both led by soloist Markeyveon Davis and conducted by Director of Choral Activities Brandon Cash.
The choir also teamed up with the MVSU Symphonic Band (under the direction of Dr. Kerry Anne Simon) for a selection of "Lift Every Voice and Sing."
Although a native of Moss Point, Miss., Glaude said the event was his first time visiting the Mississippi Delta and MVSU's campus. 
"My heart is jumping…something is moving in my bones," he said. "There's a history here. Wherever I go, I am a child of Mississippi." 
While he left Mississippi at the age of 16 to study at Morehouse College before leading an extensive career as a thought-leader, professor, author and commentator, Glaude said that Mississippi will always hold a special place in his heart. 
"Most of you come from Mississippi," said Glaude. "You have in your blood the blood of Fannie Lou Hamer, you have running through your veins Medgar Evers, you have the sounds of Bobby Blue Bland and B.B. King. There's something about this state that is a metaphor for America." 
Glaude said that lately he's been exploring the work of James Baldwin who, in 1968, stood alongside Dr. King.
"Just as King was grappling with this country's betrayal, this frail, queer black man offered perhaps one of the most insightful commentaries about American life that I've ever read— 'A Talk to Teachers' delivered in Oct. 1963," he said.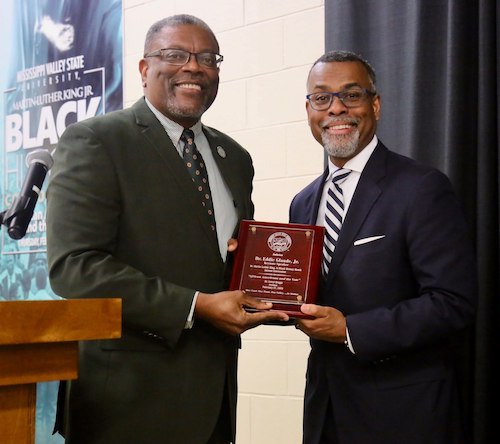 Glaude said the author explores the idea that "conformity" is the paradox at the heart of the educational enterprise.
"Education is a critical pathway, a crucial tool," Glaude explained. "We must educate our students to ask hard questions. But the paradox of education is that at the same time that society seeks to cultivate in you an inquisitive disposition is also trying to get you to conform, to socialize you into obeying the rules of society."
Glaude then admonished students to "ask hard questions" and "take rude positions." 
"Folks didn't die for the vote—that's idolatry. They died for their humanity," Glaude said. "They died for a world in which their children could come of age and imagine themselves in the most expansive terms." 
Glaude then charged students to take responsibility for this moment in history.
"What kind of world do you want to bring into being Mississippi Valley State?" said Glaude. "What will you do? Will you take responsibility, or will you retreat to your social media, your narcissism?" 
He then encouraged those in attendance to not settle for the status quo.
"Imagine a future that's different. Mississippi is in your hand. Ask some hard questions and take some rude positions in this moment."
Click HERE to view more photos from the even ton MVSU's Facebook page!