By: Jasalyn Lucas, Communication Specialist
Former Mississippi Valley State University Student Government Association President and Spring 2021 graduate Jhah Cook has chosen to attend Yale University to obtain her Ph.D. in Philosophy.
Cook plans to study in the neuroscience track of the combined program in the biological and biomedical sciences in the fall term of 2021.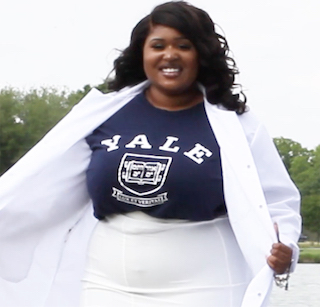 "I was accepted to five graduate programs in total, but Yale stood out the most. From the beginning, the students and staff at Yale showed genuine concern with how recruits were feeling throughout the virtual recruitment process," She explained.
Cook is from Vinton, Louisiana, a small town close to the Texas border, graduating from Vinton High School in 2018. At MVSU, Cook was a double major in biology and chemistry and graduated Summa Cum Laude in each degree. She is also a Spring 2021 initiate of the Epsilon Pi Chapter of Alpha Kappa Alpha Sorority, Incorporated.
While a scholar at MVSU, Cook found her passion and credits the university for encouraging her and allowing her to engage with people beyond the university's walls.
"I had numerous research opportunities both inside and outside of MVSU; because of the exposure I gained early on in my department, I was able to engage with others actively," said Cook.
She has had an internship where she studied neurodegeneration at Walter Reed Army Institute of Research (WRAIR) under the United States Department of Defense. During the training, her interest in neuroscience came about. She examined the brain tissue of space-flown mice using different computational methods.
Cook said, "My continuous exposure to research led me to the realization that I wanted to go to graduate school immediately after graduating. Honestly, MVSU aided me in cementing my educational path."
Not only has Cook been accepted into Yale, but she was also awarded the Gruber Science Fellowship, which is awarded to the most highly ranked applicants to Yale Ph.D. programs in life sciences and certain other fields.
"I ultimately chose Yale because of the close-knit department and the stellar academics. Additionally, my financial aid package includes a tuition fellowship that covers my entire tuition and provides me with a very nice stipend," Cook explained.
With Cook taking on a full-time Doctor of Philosophy, the minimum requirements for this graduate school are three years; the maximum enrollment period usually is six years.
Preparing for a new environment and a new city is a matter of faith for Cook.
"One day, I decided to let go of all my worries and give them to God. I've been praying about all my decisions, and I truly believe that this has helped me prepare for what is next for me. I can honestly say that I have learned the true meaning of walking by faith and not by sight," she said.
After finishing Yale, Cook is unsure about what she wants to do in her career field but hopes to figure that out while being in school there. She plans to join different organizations while being in school at Yale.
"My main plan for the future is to give back. I want to pour back into Mississippi in an impactful way since this place has modeled me. I realized that the reason I am where I'm at academically is because of what Valley invested in me throughout my entire three years there," Cook said.
Cook has also just been accepted into the Yale School of Medicine in the Medical Research Scholars Program (MRSP). She will gain exposure to the scientific and clinical basis of medical practice, where she was one out of six students from her class that has been selected for the program. Cook will start this Fall 2021.