ITTA BENA, Miss.—The Department of Fine Arts at Mississippi Valley State University will present a faculty recital featuring bass trombonist Dr. Edward Morse and pianist Dr. Lawrence Goldman, Thursday, Feb. 27 at 7:30 p.m.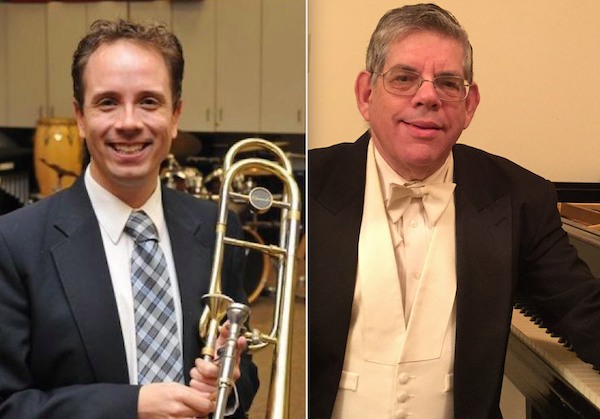 The free performance will be hosted in the Little Theater of MVSU's Walter Sillers Fine Arts Center. The general public is invited to attend. 
Works to be performed will include contemporary pieces for bass trombone and piano by Eric Ewazen and Gregory Fritze, as well as a sonata by George Frideric Handel and a work for euphonium and audio by MVSU Professor Dr. Paul Schreiber.
Morse is an associate professor of music at MVSU, where he teaches applied trumpet, horn, trombone, tuba, and euphonium as well as music education classes. He also directs the MVSU Brasswind Ensemble. 
He was previously a visiting assistant professor of music at Bethune-Cookman University and an adjunct Instructor of Low Brass at Daytona State College in Daytona Beach, Fla.
Morse has performed tenor and bass trombone in the Jackson (Tenn.) Symphony since 2009. He is a member of the Great River Trombone Quartet, a chamber group consisting of trombone professors from Tennessee and Mississippi. 
He can be heard playing Gregory Fritze's Concertino and Euphonistic Dance on the CD Vibrations of Hope, a collaborative effort with pianist Dr. Rose Grace. He also played the American Premiere of that composer's Tromboncino: Moods for Trombone and Concert Band, a trombone concerto playing tribute to Glenn Miller and Tommy Dorsey.
His tuba euphonium quartet composition Third Stream of Consciousness has been performed throughout the US and was featured in the International Tuba Euphonium Association Journal.
Morse holds a doctorate in trombone performance from the University of Memphis, a master' s degree in trombone performance from Baylor University, and a Bachelor of Music Education from the University of Tennessee, Knoxville. His primary teachers include John Mueller, Brent Phillips, Kevin Chiarizzio, and Don Hough.
A native of Santa Rosa, Calif., Goldman has been a faculty member at Mississippi Valley State University since 1980 and has held the rank of tenured full professor since 1992. He has become well known for his many appearances both as a solo piano recitalist and collaborating artist. He has participated in more than four hundred concert performances on MVSU's campus, including numerous appearances on the University's Lyceum series. 
Goldman has performed as a solo recitalist, chamber musician, and as a soloist with orchestras in numerous areas of the United States. His performances in the Southeast have included recitals in Tennessee, Kentucky, Alabama, and Louisiana, in addition to his Mississippi performances.
He is the founder and director of the annual MVSU Piano Festival and is himself much in demand as an adjudicator for festivals and competitions. He has received the HEADWAE award, conferred annually by the Mississippi State Legislature for academic excellence, and the J.H. White Preeminence Award in the Arts. He was also the MVSU Humanities Teacher of the Year in 2013.
Goldman received the Doctor of Musical Arts degree from the University of Southern California and also holds degrees from the University of Michigan and the University of California-Santa Barbara.
For more information about MVSU's Department of Fine Arts, call (662) 254-3482 or visit www.mvsu.edu.