Jasalyn K. Lucas, an aspired journalist, graphic and video designer, social media brander, and manager, serves as the Communication Specialist for Mississippi Valley State University.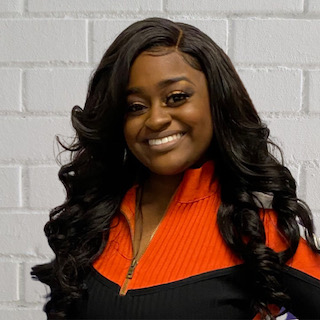 Jasalyn is a native of Cleveland, Mississippi, and is a 2014 graduate of East Side High School, where she finished in the top 20 of her class with honors. She obtained a Bachelor of Science degree from Jackson State University in Mass Communications with a concentration in Multimedia Journalism and a minor in Business Administration.
During her years at JSU, she was inducted to the National Collegiate Honor's Society, Alpha Kappa Mu, a member of JSU Dance Ensemble, and graduated cum laude in 2018. Jasalyn also became a member of the Delta Pi Chapter of Delta Sigma Theta Sorority, Inc.
After her undergraduate years, Jasalyn enrolled in Arkansas State University, where she obtained her Master of Science degree in Media Management. Shortly after receiving her master's degree, she enrolled in Walden University, where she obtained a graduate certificate in Digital Marketing.
In Lucas's spare time, she is a YouTube content creator, small business owner, and United Missionary Baptist Church, member. She sings in the Young at Heart Choir and a dance coach for Cleveland Central High School Dance/Majorettes. Lucas is also a member of Bolivar County Alumnae Chapter of Delta Sigma Theta Sorority, Incorporated, where she serves as the Technology Chair.  
If you would like to contact Jasalyn, call 662-254-3118 or send her an email at jasalyn.lucas@mvsu.edu.