For questions or more information, contact Bryant at (662) 254-3851 or e-mail careerservices@mvsu.edu.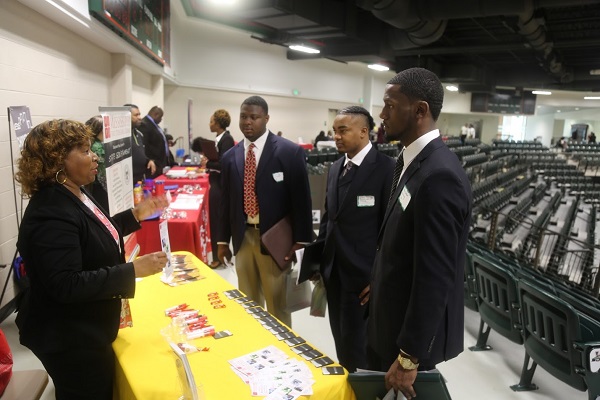 ITTA BENA, Miss- The Career Services Center at Mississippi Valley State University will welcome over 60 organizations to campus for the 2020 Spring Career Fair.
The event is slated from 10 a.m. to 1 p.m. Tuesday, February 18 in the R.W. Harrison Complex.
The fair is open to all students in all classifications and majors, as well as employers from all industries.
The fair is open to all students of all classifications and majors, alumni, and employers from all industries. During this year's event, attendees will be able to engage with prospective employers, participate in mock interviews and receive a free professional headshot.
Essie Bryant, MVSU's director of career services, said that 51 companies have registered for the event and expects more to have signed up by the time the event takes place.
"The career fair is a great opportunity for employers to come to campus and meet our students face-to-face and share information and opportunities available with their company," Bryant said.
Employer participation in this semester's career fair consists of companies and school districts who will be recruiting for full-time, part-time, and paid internship opportunities. 
To ensure students receive the most that this experience can offer, professional dress attire is recommended. 
Prior to the career fair, JCPenney in Greenwood will be hosting the 2nd Annual Suit-Up Event from 3 p.m. to 6 p.m. Sunday, Feb. 9, for MVSU students, faculty, staff and alumni.
The Suit Up event is a collaborative effort with universities and colleges to provide students a special shopping event for career wear with exclusive discounts not available to the public. Those attending the event can receive as much as 60-percent off select women's and men's career dress apparel and shoes.
On the day of the career fair, students are also encouraged to bring plenty of resumes. In preparation for the event, recruiters from Ingalls Shipbuilding will be providing resume coaching from 3 p.m. to 5 p.m. Monday, Feb. 17th in the Cliff E. Williams Auditorium, located in the Business Education Building. Interested individuals can sign-up in the Career Services Center.
During the career fair, there will be sessions designed to aid in assisting students with interviewing skills.
"We will offer students the chance to practice their elevator pitch, practice their career action plan and provide the opportunity to take part in mock interviews conducted by career professionals," said Bryant.
Also, Trent Calvin Photography will be on-site providing free professional headshots.
"This is a chance to take a break from the fair to receive a professional headshot at no cost."
Companies and school districts who have signed-up include:
Active Duty Army Reserve
Atmos Energy
Bank of Commerce
Biloxi Public School District
Cintas
Clarksdale Municipal School District
Cleveland School District
CoreCivic
Enterprise Holdings
Federal Bureau of Prisons-Yazoo Complex
Federal Deposit Insurance Corporation
FedEx Logistics
Greenville Mid-Delta Airport
Greenville Public School District
HBCU Career Development Marketplace
Hollandale School District
Holmes County Consolidated School District
HOPE Credit Union
Ingalls Shipbuilding
Madison County Schools
MARS Food
Memphis Police Department
Mississippi Army National Guard
Mississippi Dept. of Wildlife Fisheries & Parks
Mississippi Dept. of Employment Security
Mississippi Highway Patrol
Mississippi State Personnel Board
MS Delta Academies-Leflore Legacy Academy
MS Dept. of Child Protection Services
MVSU-Graduate Studies
MVSU-International Affairs
New Albany School District
North Panola School District
Northwestern Mutual - Meeks Financial Group
Professional Management Solutions
Rankin County School District
Region VI Life Help Mental Health Agency
Sanderson Farms, Inc.
Scott County School District
Shelby County School
Sherwin-Williams
South Delta School District
Southeastern USDA, ARS
Sunflower County Consolidated School District
Tate County School District
Thurgood Marshall College Fund
Toyota Motor Manufacturing Mississippi
Tupelo Public Schools
U.S. Army Corps of Engineers, Enid Lake
U.S. Census Bureau
U.S. Department of Labor
U.S. Equal Employment Opportunity Com
U.S. Peace Corps
U.S. Secret Service
U.S. Social Security Administration
University of Mississippi Medical Center
Viking Range, LLC.
Walgreens
Walmart Stores Inc.
Warren Central Junior High School
West Orange Cove CISD
For questions or more information, contact Bryant at (662) 254-3851 or e-mail careerservices@mvsu.edu.