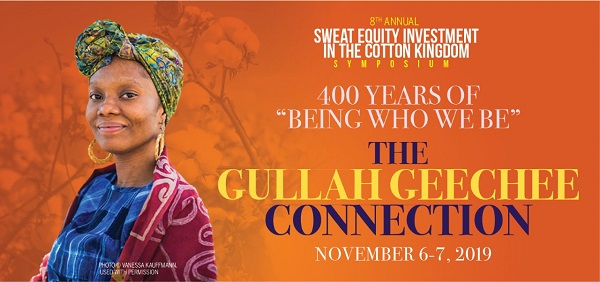 ITTA BENA, Miss.—The 8th Annual Sweat Equity Investment in the Cotton Kingdom Symposium is slated to be held at Mississippi Valley State University November 6-7, 2019.
Dedicated to the 400 years of making a way out of "knowing who we be," as informed by the Gullah Geechee tradition, this year's symposium will feature an array of individuals and groups.
Sponsors for this year's event include Mississippi Valley State University, the Mississippi Humanities Council, and KHAFRE, Inc.
Organizer Dr. Cassie Sade Turnipseed, an assistant professor of history at MVSU, said the partnership formed between MVSU, Khafre, Inc. and MHC is a strong and vital connection to honoring the legacy of our ancestors.
"This partnership validates the notion that a tribute and monument to cotton pickers are not just significant, but long over-due. Honoring the legacy of "grandmamma-nem" in a university setting gives artistic and academic license to the pursuit of gaining more scholarship and international acceptance, of the contributions and sweat equity made by the people who picked cotton throughout the American South," she explained.  
A Brownbag session will kick off the two-day event at noon on Wednesday, Nov. 6.
At 3 p.m., organizers will officially open the John Jones' Exhibition, "Confederate Currency: The Color of Money, Images of Slavery in Confederate and Southern States Currency." The exhibit will be housed in the J. H. White Library thorough May 2020.
On Thursday, Nov. 7, the symposium will commence from 9 a.m. to 3 p.m. in the Carver Randle Auditorium. located in the W.A. Butts Social Science Auditorium.
The South Carolina-based historian/storyteller, actress, singer and comedian Anita Singleton Prather (Auntie Pearlie Sue); world-renowned Griffin Lotson and the Geechee Gullah Ring Shouters from Georgia; and Gullah ambassador, artist, lecturer and legacy preservationist John Jones will be among other notable Mississippi Delta-based scholars attending and participating in the symposium.
Turnipseed added that the tradition of the Gullah Geechee is significant for this year's symposium.
 "It reveals how over time, place and space their forefathers and mothers developed a language as a means of communicating with each other and enabled them to preserve many African practices through the arts, crafts, cuisine and spiritual practices," she explained.
"This evolving story of self-determination, persistence, resilience, innovation, isolation, and enslavement captures the theme for the Symposium."
For questions or more information, call (662) 347-8198 or e-mail cassie.turnipseed@mvsu.edu.