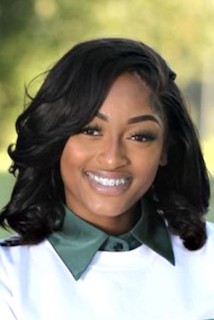 Karrington Mechel Stockstill is a 2021 graduate of Mississippi Valley State University (MVSU) with a Bachelor of Arts Degree in Mass Communication. During her time at MVSU, Karrington has excelled both in and outside the classroom.  She has been a Dean's and Distinguish Scholar Recipient. While at MVSU, Karrington served as a member of the Cheerleader Team and was a member of the Student Alumni Association, where she served in the role of Public Relations Officer. Karrington also served as a tour guide with the Office of Admission and Recruitment. She is a Spring '21 initiate in the Epsilon Pi Chapter of Alpha Kappa Alpha Sorority, Inc.
Karrington has worked as a Tutor/Counselor for the MVSU Upward Bound II Program.  Additionally, Karrington also served as Administrative Assistant and Social Media Content Manager for both the MVSU V-Club and the Mississippi Valley State University National Alumni Association, Inc. Karrington is currently enrolled at Arkansas State University to pursue a master's degree in media management.
Karrington is an Itta Bena, MS., and is a member of New Bethel Missionary Baptist Church. At New Bethel, she operates as Praise Dance Coordinator, Junior Usher, Youth Choir member, and serves on various committees within the church.
If you would like to contact Shanae, call 662.254.3578 or send her an email at shanae.curry@mvsu.edu.