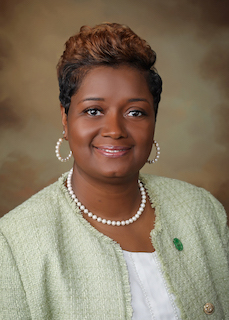 Auguster Keys Wallace, MS
Chief of Staff
Auguster Keys Wallace serves as the University's Chief of Staff.
Wallace began working at MVSU in December of 2000 as a secretary in the teacher education department. She later served as the administrative secretary to the dean in the same department. From July 2007 until June 2015, Wallace worked in the Office of Business and Finance as an Office Manager and the Resource/Property Coordinator before becoming the Executive Assistant to the President in July 2015.
In her role, Wallace is responsible for reviewing and directing incoming documents to the President's Office, drafting talking points, speeches, and other confidential and executive correspondence on behalf of the President. In addition, Wallace maintains responsibility as the lead university administrator responsible for working directly with the Mississippi Institutions of Higher Learning attorneys regarding university legal matters, responding to internal and external requests for information on behalf of the President, advising the President on issues of immediate and long-range concern and serve as the contracts manager for the University.
Wallace earned her Associate degree in Accounting from Mississippi Delta Community College, her Bachelor of Science degree in Business Administration from Mississippi Valley State University, and her Master of Science degree in Management from Walden University. She is married to Rodrick Wallace, and they have one son, Avery, and two daughters, Dakiyah and Leah. She is a member of the Kappa Alpha Omega Chapter of Alpha Kappa Alpha Sorority, Inc.