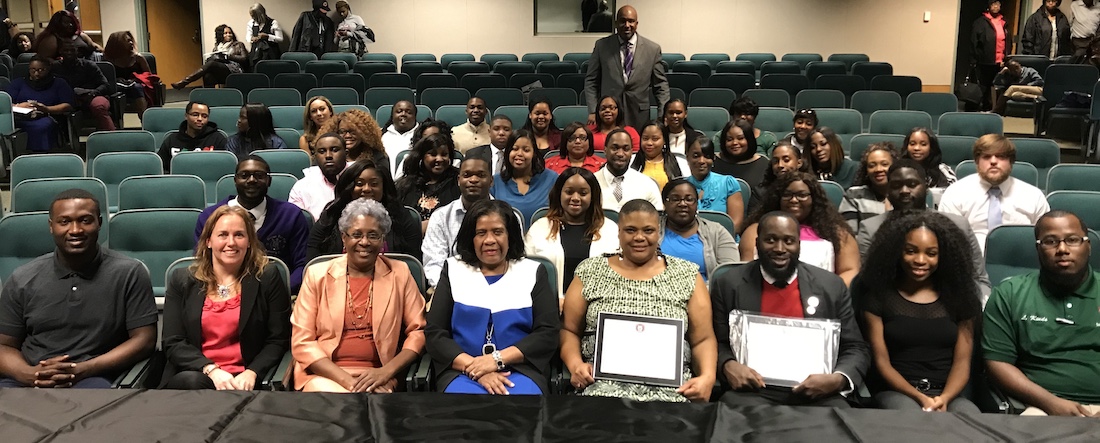 ITTA BENA, Miss.— New inductees of Mississippi Valley State University's National Society of Leadership and Success (NSLS) as well as outstanding faculty and staff members were honored Monday, Nov. 27, during a special induction ceremony.
The ceremony, hosted in Room 103 of the William Sutton Administration Building, recognized 35 student inductees. Also recognized were faculty and staff members nominated for Excellence in Teaching and Excellence in Service awards and honorary membership in the organization.
MVSU's University College organized the event.
"Leadership is not about a position, it's about a process. We learned that throughout our time that we had together—you don't always have to be out front. You can be behind the scene supporting," said MVSU NSLS Chapter Advisor Dean Renardo Hall.
Hall said while the inductees are prepared to become leaders in the community, they are also encouraged to step up as leaders on MVSU's campus.
"We want each of these inductees to serve as catalysts for change at the institution…to honor the history and build on the great foundation that we have at Mississippi Valley by making a difference."
The event was highlighted by a keynote address from MVSU's Vice President of Academic Affairs Dr. Constance Bland.
Bland used the opportunity to discuss the importance of leadership.
"You cannot turn on the television without seeing examples of leadership—whether it's good or bad," said Bland.
She then reviewed several traits that are necessary to become a good leader including learning to communicate, learning to listen, learning to smile and thinking strategically.
MVSU faculty and staff members selected for honorary membership were: Larry Kinds, summer development program coordinator; Edominas Perry, student leadership and engagement coordinator; and Tammy Timbers, first-year experience coordinator.
Faculty members receiving Excellence in Teaching awards were: Dr. Rachel Venn Beecham; natural sciences professor; Shannon Bowden, mass communication instructor; Lucille Durham-Lacy, assistant professor of social work; and Dr. Elizabeth Evans, associate vice president of academic affairs. 
Staff members presented with Excellence in Service awards were: Contessa Burns, maintenance operations work control center/transportation; Carrie Dean Ollie Hicks, office manager for Student Affairs and Diversity; and Kotrese Saulsberry, assistant director of Student Leadership and Engagement.
Local chapter awards were presented to Vanderbilt Dixon and Howard Hill, both from MVSU's Department of Facilities Management.
The new inductees included: Kadajah Babbitt; Jasmine Baker; Raymond Banks; Jada Brinson; Michael Clark; Carolyn Davis; Jordan Ellerby; Demarcus Frazier; Ashley Hemphill; Tiffiny Hollins; Alexandria Jackson; Bobby Jackson; LaTonya Jones; Catherine McCall; Jamessa Morris; Lyric Nolden; Trainniesha Pates; Sara Pinkston; Samuel Pulley; Sherrod Reed Jr., Lurena Robinson; Marcus Romain; Janeisha Sanders; Cameron Shaw; LaGwenia Simon; Shatasa Smith; Mawanda Stephens; Dustin Stewart; Sheletha Stokes; Rashaan Surles; Marissa Tellis; Kajarius White; Idella Williams; Jalissa Williams; and Tekoa Williams.
The nation's largest leadership honor society, NSLS selects members for membership based on academic standing or leadership potential.
Since July 2014, MVSU's NSLS chapter has inducted over 185 members into the society.
The organization currently has 804,643 members nationwide. 
CLICK HERE to view more photos from the event on MVSU's Facebook page!