ITTA BENA, Miss.—Mississippi Valley State University will hit the highway once again, this time taking its "Valley on the Road" tour down Highway 82 to Greenville.
University officials will be hosting its next event at the Washington County Convention Center on Tuesday, Jan. 28, from 8:30 a.m. to noon.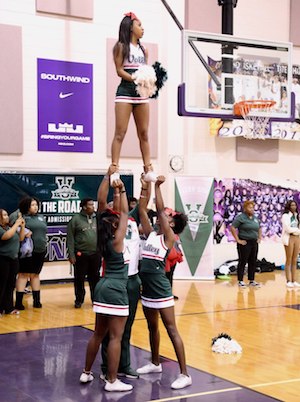 MVSU President, Dr. Jerryl Briggs, Sr. will be in attendance to greet potential students as well as alumni during the energetic showcase which will also feature NBA legend and current MVSU Men's Basketball Head Coach Lindsey Hunter, the MVSU Cheer Squad, The "Mean Green Marching Machine" MVSU Band, the Valley Singers as well as members of the MVSU Student Alumni Association.
Dr. Danisha Williams, director of MVSU's Office of Admission and Recruitment, said the tours have been very impactful with recruitment and connecting with surrounding communities. 
"The Valley on the Road Tours have been a great opportunity for us to focus on a particular school, city and group of students while also making connections with school administrators and alumni who reside in the area," said Williams.
Williams said the events are designed to show how dedicated and committed the university is to exposing prospective students and the community to educational and enrichment opportunities available at MVSU.
"We are intentional about our efforts, so we bring a taste of Valley to the students in their respective communities. Because we place particular emphasis on a particular group with each visit, it allows us to create a special relationship with each school," Williams said. 
To stay updated with the "Valley on the Road Tour," text "Tour" to 48421.
For questions or more information, contact MVSU Campus Tour Coordinator/Enrollment Specialist Kimberly Meeks at 662-254-3342 or email her at Kimberly.Meeks@mvsu.edu.