About the MVSU Rural Policy Student Advocacy Group
The MVSU Rural Policy Student Advocacy Group is the first student advocacy group of its kind in the Mississippi Valley State University community and is a student-centered advocacy project. In this group, students promote citizen-centered democracy to address challenges in the Mississippi (MS) Delta community. Students explore civic engagement while adequately building relationships within the committed communities. Through the implementation of the Deliberative Community Forum, students gain first-hand experience about deliberative democracy and engage in a structured discussion about a rural policy challenge in a non-confrontational environment with policymakers, community members, and other relevant stakeholders. The MVSU Rural Policy Student Advocacy Group prepares students to create sustainable change in their respective communities through the engagement of deliberative democracy. It promotes civic engagement beyond their matriculation at MVSU. 
Goals for the Rural Policy Student Advocacy Group include the following: 
To improve the engagement between citizens, policymakers, including both elected and non-elected officials, and other stakeholders, who desire to address rural policy issues in the Mississippi Delta

To collect robust primary data to develop comprehensive knowledge about a rural policy issue in the MS Delta

To foster civic connectivity among key stakeholders to promote collaboration and sustainable change based on the involvement of community members

To improve the accessibility of community members to policymakers.

Who Can Apply
The MVSU Rural Policy Student Advocacy Group is limited to MVSU students, who are either an undergraduate student in the Department of Social Sciences or a graduate student in the Rural Public Policy and Planning Graduate Program at MVSU.
Current Funding
Dr. Cassandra Hawkins received a 2019 Research!America microgrant award for developing the Mississippi Valley State University Rural Policy Student Advocacy Group. This award, funded by Research!America and the Rita Allen Foundation, focuses on engaging both community leaders and policymakers in a discussion about the broad societal benefits and local impact of scientific research. Among the fifteen university groups that received funding, Mississippi Valley State University is the only HBCU to receive this award.
The Research!America alliance advocates for science, discovery, and innovation to achieve better health for all.
The Rita Allen Foundation(link is external) invests in transformative ideas in their earliest stages to leverage their growth and promote breakthrough solutions to significant problems. It enables early-career biomedical scholars to do pioneering research, seeds innovative approaches to fostering informed civic engagement, and develops knowledge and networks to build the effectiveness of the philanthropic sector.
Read the latest Press Release about the funding opportunity.
Latest Updates
The MVSU Rural Policy Student Advocacy Group will hold its Rural Communities Web Series at 3 p.m. on Friday, October 9, 2020. Ms. Asha Tillman, a MVSU graduate and Sustainable Agriculture Specialist for the National Center for Appropriate Technology will be the speaker for the event. This event is free and open to the public.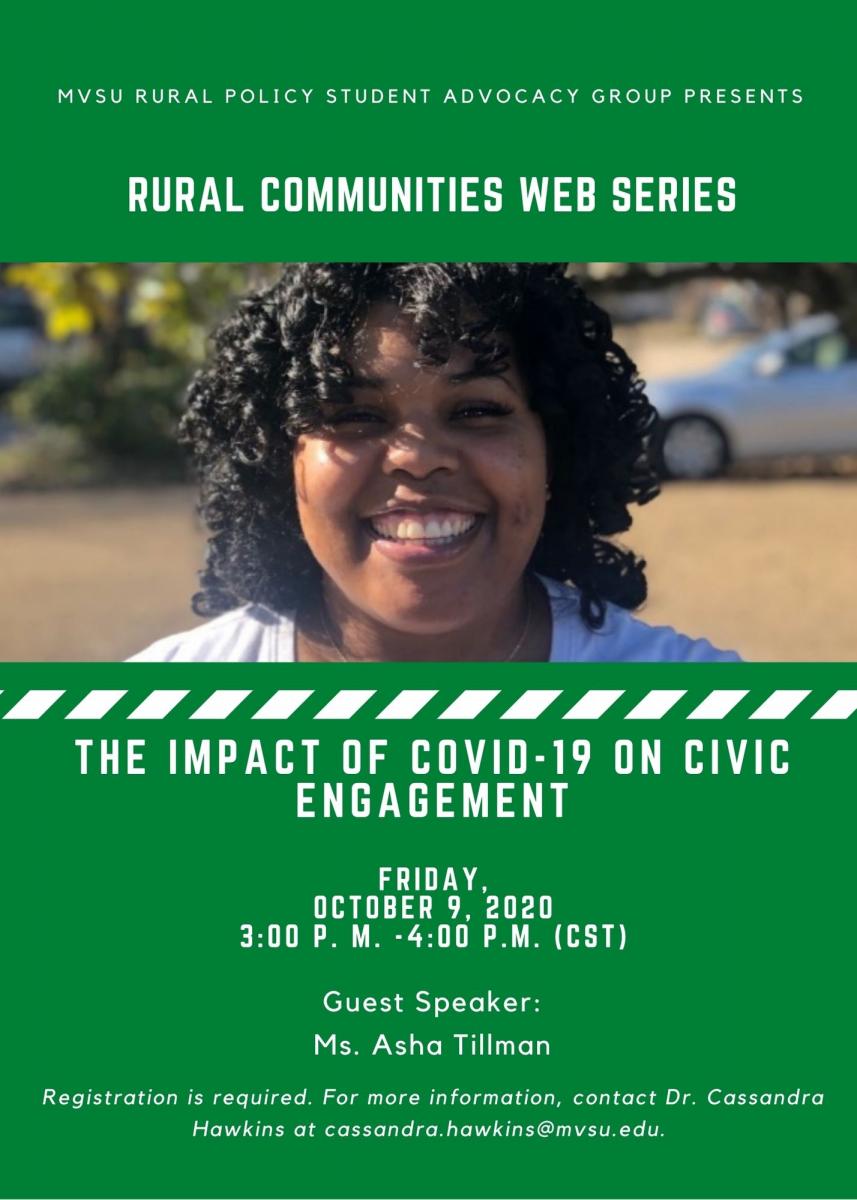 Two MVSU Rural Policy Student Advocacy Group members, Arnesha Harris and Alexcia Givens attended the Conference of Minority Public Administrators 2020 Annual Conference in Georgia. Their poster presentation, entitled Civic Engagement, and Graduate Students won 3rd place in the poster competition.